Zac Posen, Versace, Etro
Time to grow those brows girls! Bold brows are back!
There are two varieties - big bushy untamed ones, and clean shapely full ones. I much prefer the latter.
If your brows are on the full side - you're in luck!
For ladies with thinner brows opting for this look, I recommend growing your brows (yes leave them alone) for 2 weeks and then go to a professional to have them threaded and reshaped to your preference.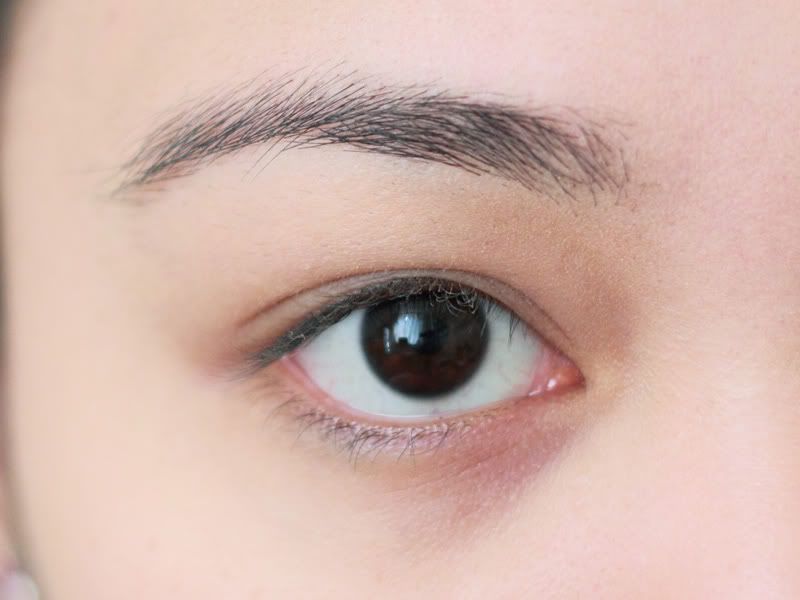 before, after
For tips on getting clean bold brows, read my
very
extensive Eyebrow Tutorial here:
All About Brows | My Eyebrow Tutorial
- It includes my tips on eyebrow shaping, trimming, colouring and shading.
What do you think of this trend? ♥
Livia xx
Illamasqua Scarce Nail Polish is a muted medium pink colour with silver speckles that turn dark grey when mixed with the pink base. It is perfect for spring and reminds me of Easter eggs! It is part of the Illamasqua I'm Perfection collection.
This is my first nail polish from Illamasqua and I am definitely impressed. It is wonderful to apply - applies evenly and dries quickly. After 5 days of wearing it without a base or top coat, it stays chip-free. The only thing I don't like about it is that the bottles don't seem to be ergonomic as rounded bottles are easier to hold and that it is prone to fingerprints - as you can see on the photo! But it does not really affect the product itself so its no biggie.
I am keen to try other Illamasqua nail polishes and I definitely recommend this!
What do you think? ♥
Livia xx
Before I made my French Pharmacie haul, I researched the web for the most raved about products. These were the most frequently mentioned. I picked them up and I have been using them for a few weeks so far, and here are my reviews for the must have products from the French Pharmacie!
Some of these products you can purchase online in the UK and I have added some links where you can look them up if you're interested. Note that I have not purchased from these links myself so I am unable to comment on the legitimacy of the sellers.
NUXE HUILE PRODIGIEUSE
Oil skincare products have been on trend recently. This multi-purpose body oil can be used on the face, body and hair. I absolutely love it to moisturise my face. This size comes with a spray. For my face and neck I typically require two spritzes, and then I massage the oil into the skin with my hands. I find that it settles and moisturises pretty quickly and actually doesn't leave your skin oily after it has set. I have not used this on my hair however as I find it might be a waste! I'd love to bathe in this product if I could. This is definitely a must have!
BIODERMA CREALINE SENSIBIO H2O
I love love love this product. It is a super gentle but efficient makeup remover that does not seem to upset my sensitive skin. It is unscented. Hypoallergenic. I dab some on a piece of cotton wool or a cotton pad and it quickly wipes off even waterproof makeup! Truly a wonder product. I love it!
PERCUTAFEINE GEL
This gel contains caffeine that's said to reduce the appearance of cellulite. It is a clear transparent gel that dries pretty quickly and has no moisturising properties. It does seem to reduce the appearance of cellulite but for a few weeks so far the effects seem minimal. Nothing beats diet and exercise for this purpose.
EMBRYOLISSE LAIT-CREME CONCENTRE
This is a very concentrated moisturiser. Once on, my skin feels instantly moisturised. It takes about 5 minutes to be fully absorbed and you may feel a bit greasy this time. It does leave you with a soft velvety finish. The effects last a few hours and it is perfect for the cold dry weather.
KLORANE GENTLE DRY SHAMPOO with OAT MILK
On first impressions, I found the delivery of this product a little strange. I am used to aerosol-type of dry shampoos but this is a little different. You twist the top to open the product, aim towards your hair, then press on the body of the bottle and out comes white powdery product. It does work well as a dry shampoo and does not irritate my scalp, however if you're not careful, it may leave you white patches of product on your clothes. They're easy to pat off though. I probably will not re-purchase just because aerosol dry shampoos are just far more convenient to use!
ARNIGEL
This wonder gel is a great treatment for muscle pains and bruises. It reduces the healing time for bruises.
AVIBON
Vitamin A has been a long proven anti-blemish and anti-aging ingredient used in many skin care products. It works on a cellular level by reprogramming the dermis to increase blood flow to the surface, which increases collagen and decreases collagen break down, leading to better skin healing (and anti-ageing). Avibon contains Vitamin A. It is a thick ointment that requires a little warming up with your hands to spread easily. You only need a little dollop of this to cover the entire face. Once its set, it makes my face feel smooth. It is not drying like some other Vitamin A products are. Many people have said this works wonders on crows feet and lip wrinkles too! This is one of Gwyneth Paltrow's favourites that she mentions in her blog GOOP.
That's my review so far and I hope you found this useful. Out of all of these, I loved Nuxe Huile Prodigieuse and Bioderma Crealine Sensibio H2O the most so I bought a few back ups!
What do you think? ♥
Livia xx