Want whiter teeth without having to visit a dentist? Try the
Brilliantly Simple Kit ($39)
by
Smile Brilliant!
This kit contains a professional strength whitening gel pen, a High Intensity Ultra-Blue LED activating light, and lip protective trays. This product is so small and easy to carry around (for trips) and it doesn't take rocket science to use! Keep reading for my review.
To Use:
1. Prepare your equipment: Remove the plastic cover from the battery of the LED apparatus (first use). Clip the upper and bottom lip protective trays together to make them easier to wear.
2. Brush your teeth.
3. Apply the whitening gel on your front upper and lower teeth. - it has a twist up mechanism to dispense the product.
4. Apply the protecting trays over your teeth.
5. Switch on the little LED enhancing light.
6. Place in your mouth, the mouthpiece between your lips and lip trays.
7. Wait 20 mins, rinse your mouth and you're done!
Before, After
I have had my teeth professionally whitened twice in the past (at 16 and 22, care of my Dentist Uncle in San Diego, California
- if you're in the area let me know so I can tell you where to find him!
), so my teeth are hardly yellow. I have been drinking a lot of tea and coffee lately
for the caffeine kick
, which definitely stained my teeth, but not so much I suppose.
I have only used this once and I could see some improvement after, but it might be difficult to appreciate on the photo.
What I love about it...
- It does not require a lot of skill.
- The whole process doesn't seem to hurt my teeth at all - unlike professional teeth whitening with the laser, which did make my teeth feel really sensitive.
- The gel is not as yucky tasting as tooth whitening strips I've tried.
- You can do it at home.
- It only takes 20-30 minutes of your time.
What's not so good about it...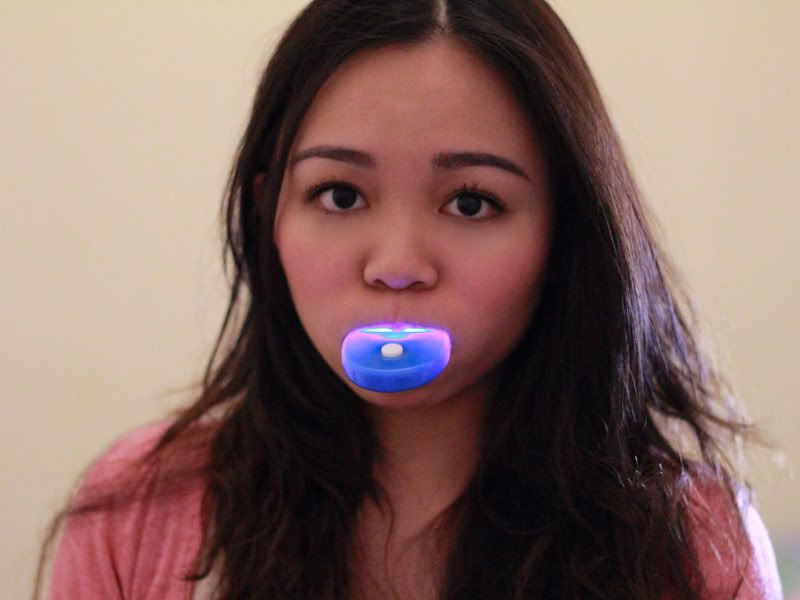 - It is hardly attractive to use - well I suppose it isn't the point of the gadget, it's the results that count! But just make sure you should use it when you expect minimal social interaction... I'd hate for the postman to arrive when I have this on. The glowy blue light is pretty cool though ;D
- It can be a bit fiddly with using the brush applicator to apply product. It's hard to tell when its evenly distributed because it is a clear gel and difficult to visualise.
- It can get messy. I believe I produce an average volume of saliva as a normal human being, but I found it challenging to leave your mouth open for the time it takes to brush the applicator and insert the lip guards.
- Again with the brush applicator - unhygienic! I make sure I wipe the applicator well between uses, but I don't know how effective doing that is.
Overall, I love the idea of this product and I'm happy to recommend it! You can get whiter teeth for just $39!
Smile Brilliant!
is a company dedicated to provide cosmetic teeth whitening at cheaper costs than those charged at dental offices. They offer several different teeth whitening kits which you can browse through here
http://www.smilebrilliant.com/
so you can definitely find one that suits you.
And they ship worldwide!
What do you think? ♥
- - - - - ♥ - - - - -
* GIVEAWAY *


Smile Brilliant has been so gracious to offer TWO (2) of my lucky readers a chance to also try this easy "Brilliantly Simple" package!
This includes:
- Teeth Whitening Pen (Includes 4ml of 35% High-Intensity Whitening Gel)
- High intensity Ultra-Blue LED activating light (batteries included)
- Protective trays (Top & Bottom)

3 Simple Rules of the giveaway (must follow all 3):
1. You must be a GFC follower of http://www.Princess-Livia.com
2. Comment on the contest blog post stating 'what makes you smile' & Your email address.
3. Like the Smile Brilliant Facebook Page.


a Rafflecopter giveaway


For extra points, follow other Rafflecopter options!

Winners will be chosen via Rafflecopter, so
Don't forget to click the corresponding on Rafflecopter buttons once you have entered!

That's all! Easy, right? You have nothing to lose! And only pretty pearly whites to gain ;)

This giveaway ends on March 22, 2012 at 11:59PM EST and is open internationally. Two (2) lucky winners will be chosen randomly via Rafflecopter. If you win, Livia will forward your details to SmileBrilliant who will contact you, and you must reply within 48 hours of receiving it otherwise your entry may be disqualified and another entry will be chosen.

There's nothing to lose!! Good luck everyone!! xxxx

Disclaimer: Some products in this post were provided for consideration for review. These are my honest opinions as always! This post also contains an affiliate link that will give me commission with every purchase. If you are planning to purchase this product, please support my blog by clicking this link. Thanks! :)