Here's my collection of NARS products. I didn't realise that I already accumulated this much! To be honest, none of these were bought at full price as the retail price seems a bit too steep for me. Some I picked up from blog sales, swaps and some discounted. I had NARS multiples before, but I've sold them away as I wasn't particularly happy with them - sticky icky. I also had a NARS Casino bronzer, but the red tones didn't go so well with my yellow skin... So these are what I have left, including a new addition to my NARS blush family: NARS Gina Blush, which I got cheaper from Buyapowa! ;)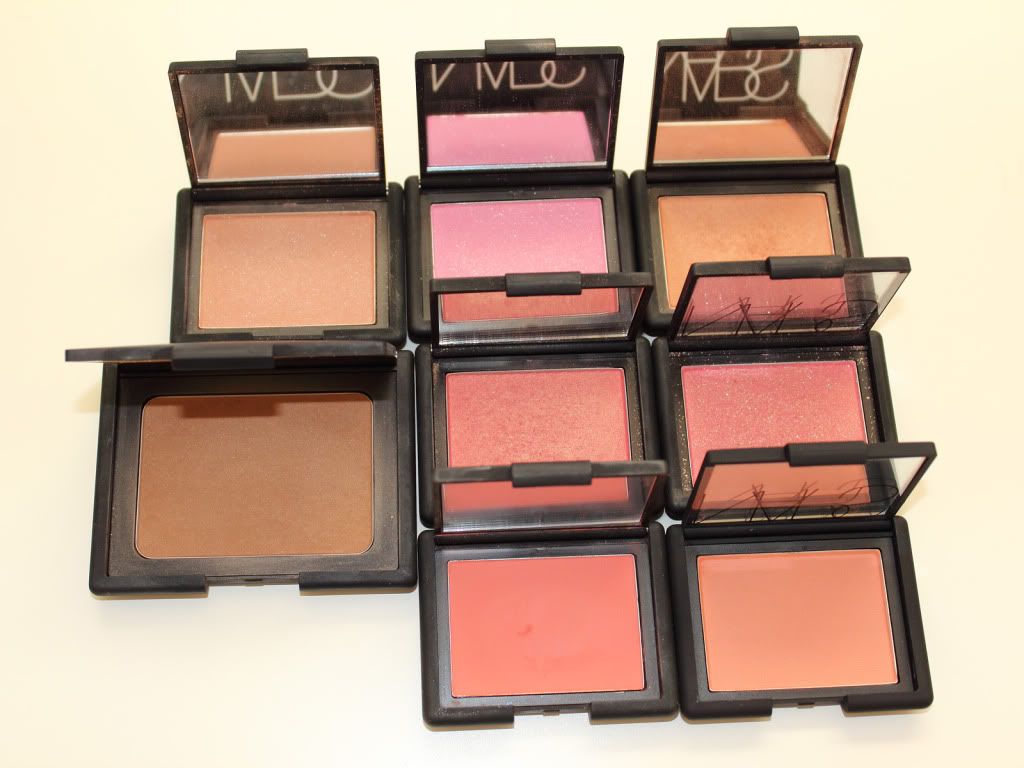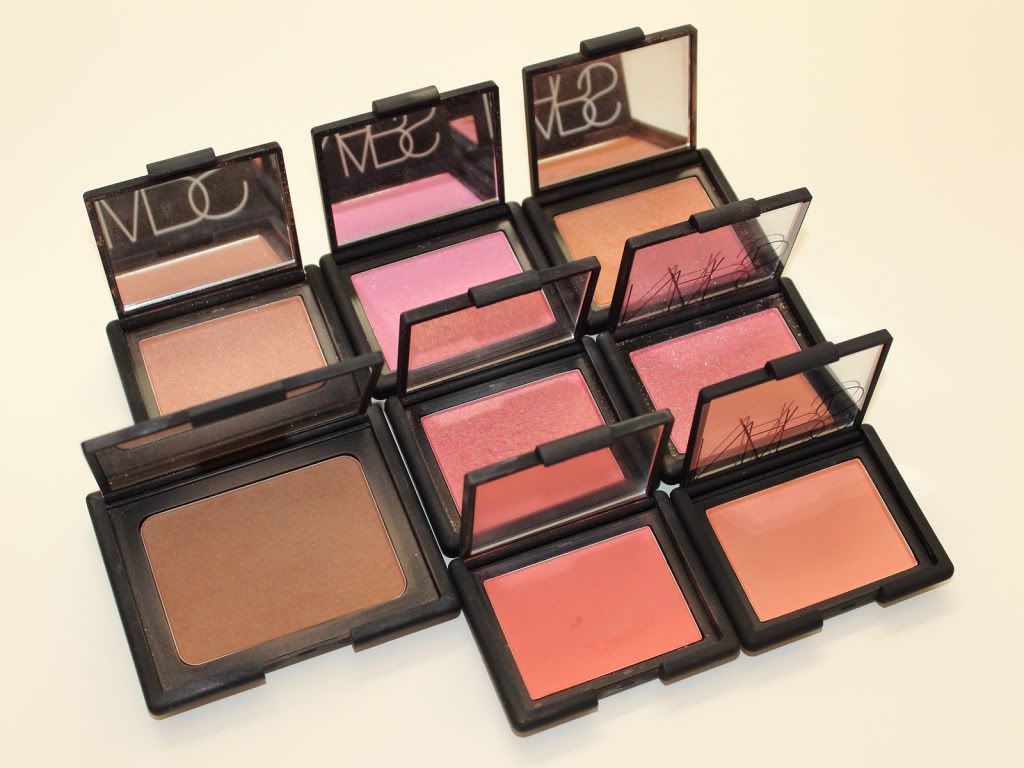 Swatches: L to R: NARS Madly, Angelika, Luster, Laguna bronzer, Orgasm, Super Orgasm, Gilda, Gina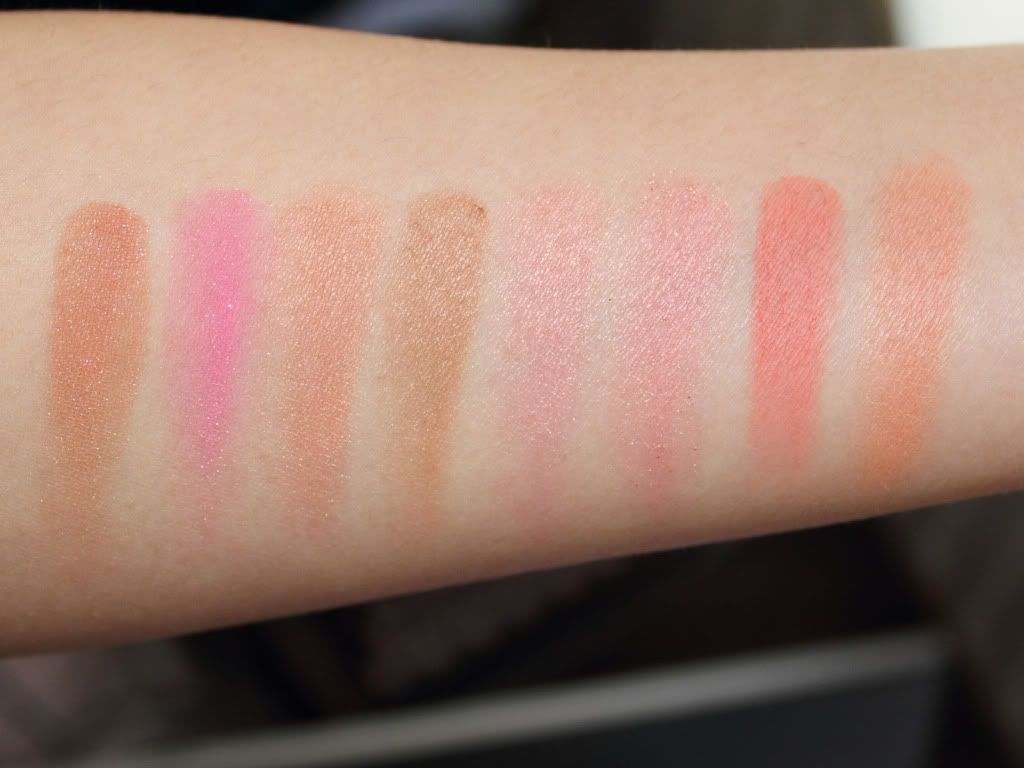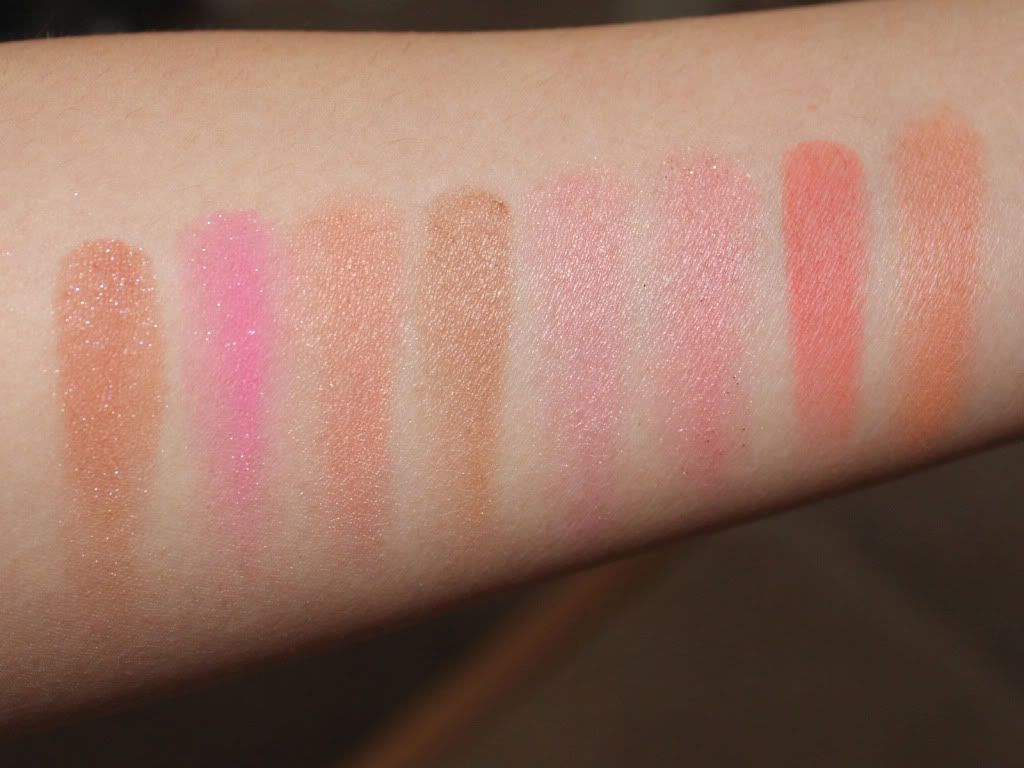 NARS Madly, Angelika, Luster, Laguna bronzer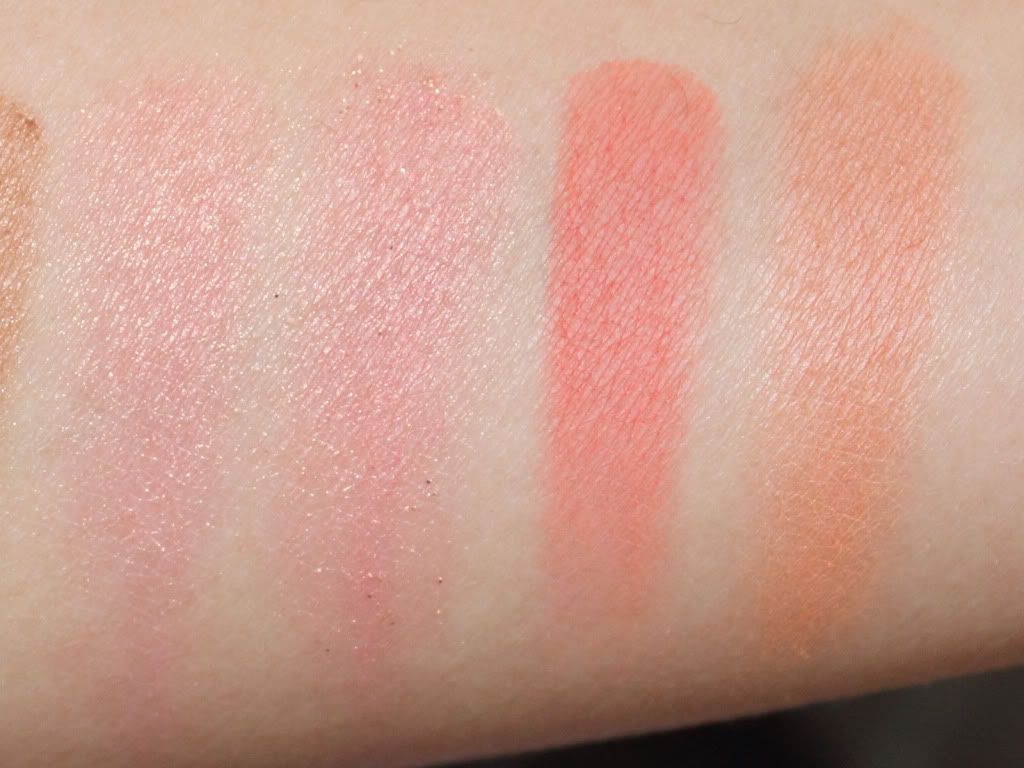 NARS Orgasm, Super Orgasm, Gilda, Gina
Among these, my favourites are:
Luster - fantastic for that gorgeous golden J-Lo-esque look
Laguna - used to be my favourite bronzer, but has been replaced by the matte Benefit Hoola bronzer
Orgasm - everyone's favourite blush with pink-gold duochrome
Gina - I only got this recently, this light-medium peach illuminates my yellow skin perfectly
The packaging: I love the good-grip non-slip packaging, and that it has a mirror (unlike the regular MAC blushes), but I don't like how it gets dirty so easily. You can compare the rest with my new NARS Gina. I keep these hidden in a drawer so they don't accumulate dust, but they still get dirty.
The blushes themselves are amazing to use. Great quality. They are super soft, super pigmented, easy to blend and long-lasting. Definitely some of the best blushes in the market!
However, what is up with some of these naughty names?
Seriously, I can't believe they got away with them! It makes me reluctant to share these products with friends incase they get the wrong idea... even though NARS Orgasm is one of the most popular blushes in the makeup world!
I am on the lookout for a discounted/cheaper NARS Deep Throat blush (eugh with the name again). I was so gutted that I missed out on it when Buyapowa had it for sale! :( I'd also love to have a NARS lipstick and an eyeshadow, I just don't know which ones to pick! NARS Schiap is on my list though :)
In the UK, NARS blushes retail for £21 and bronzers for £25.
Do you own anything from NARS?
What is your favourite NARS product? ♥