If my memory hasn't failed me, I don't think I've written a single post about the makeup I bring with me for everyday use, so why not write one now? Some of the products featured I have written reviews for before, and I will link them on their product names so you can read them too.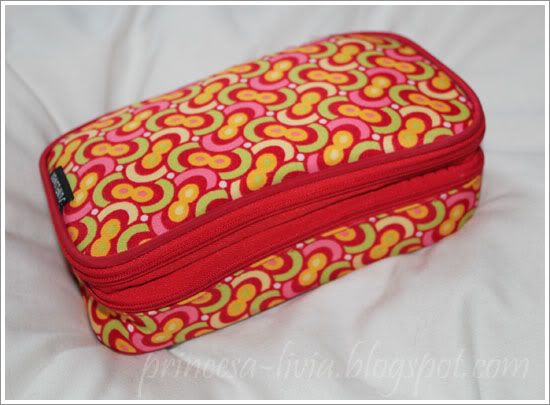 This is my makeup bag. I bought it from the Department Store of the Gaisano Mall in Davao City, Philippines (my hometown). It looks pretty small from the outside, but it can surprisingly fit a lot of makeup!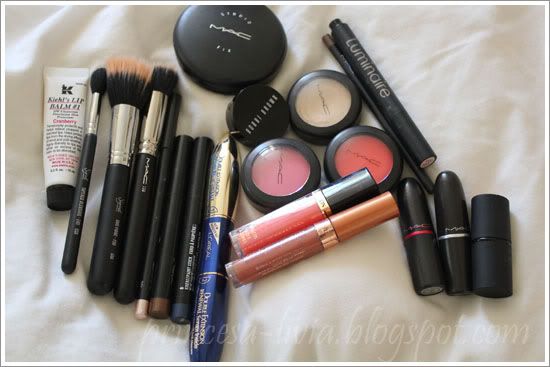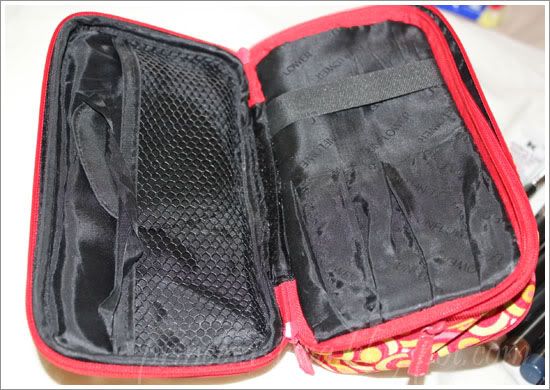 It has this pocket with the mesh and mirror (not pictured), which you can open fully.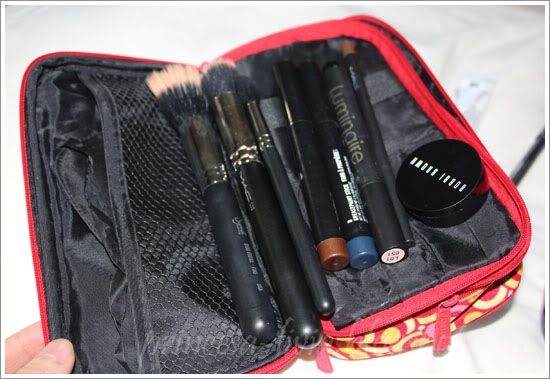 This is where I store my brushes and the pencil type products, as well as my small Bobbi Brown Corrector in Light Peach.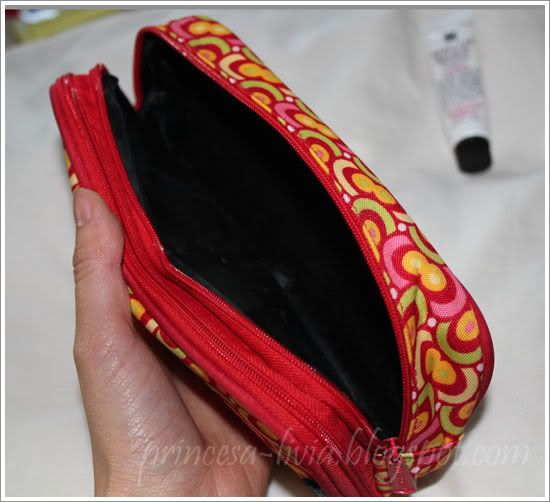 It also has another pocket which doesn't open fully - ideal for a lot of other things which may fall out. This is where I put the rest of the makeup.
Now for the contents: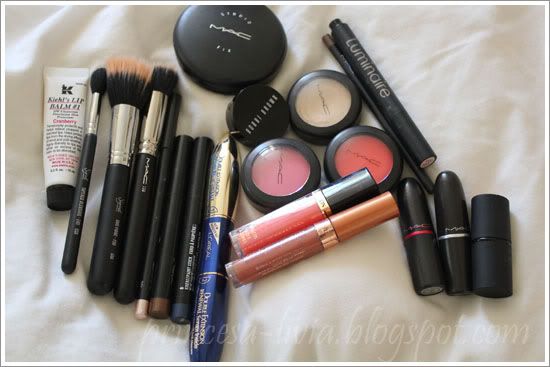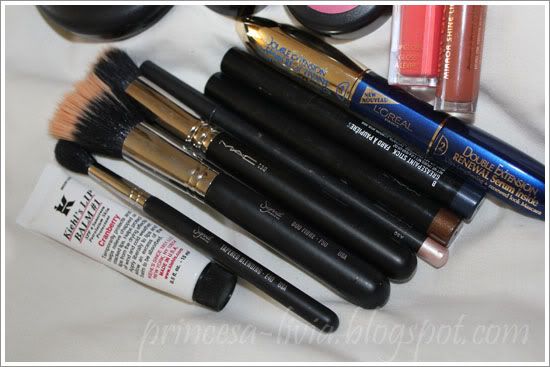 Brushes
MAC 130 I use this to apply concealer. I got this tip from Zara! (MAC)
Sigma Duo Fibre F50 Travel Size to apply face powder (Sigma)
Sigma E40 Travel Size for blending incase of emergencies. I don't use this all the time. (Sigma)
Eyeliner, Eyebrows, Mascara
MAC Greasepaint Sticks in B & Below Ground. If you've been following my blog for a while, you'll know how much I love these sticks! (MAC)
MAC Lingering Brow Pencil My HG brow pencil :) (MAC)
MAC I Get No Kick eye kohl. This limited edition pencil helps brighten my eyes as well. I apply this on the lower lash line. (MAC)
Loreal Double Extension Mascara with Serum Inside. This has been my favourite mascara for the last 2 years I believe, I swear the Serum actually works! I feel as though it makes my lashes thicker and longer.
Face Stuff
Bobbi Brown Corrector in Light Peach (Bobbi Brown)
MAC Studio Fix Powder Plus in NC25 (MAC)
MAC Cream Colour Base in Pearl - my HG highlighter. Looks so natural and amazing in pictures. (MAC)
Sleek Makeup Luminaire Brightening/Concealing Stick in L01 - love how this totally brightens up my undereyes when my eyebags feel big and blue. I'm not sure if this is available yet, but when it is, you must try it! :) (Sleek MakeUp)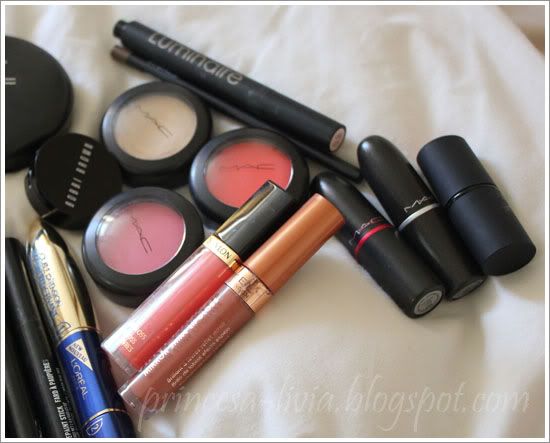 Cheeks & Lips
MAC Cream Colour Bases in Tickle Me Pink, Virgin Isle. I love the MAC CCBs. They are so pigmented and easy to apply on cheeks and lips. And they don't break me out! Very convenient on the go. (MAC)
Kiehl's Lip Balm in Cranberry. I love Kiehl's lip balm and this one tastes really good.
Sleek Peaches & Cream Lipstick. This is a very bright light coral, and its really creamy and pigmented too. No frost in this one; I love it! (Sleek MakeUp)
MAC Lipsticks in Jazzed and Viva Glam Cyndi (MAC)
Revlon Coral Reef Lipgloss
Rimmel Sun Queen Lipgloss (Rimmel)
The lipsticks
L-R: MAC Viva Glam Cyndi, MAC Jazzed, Sleek Peaches & Cream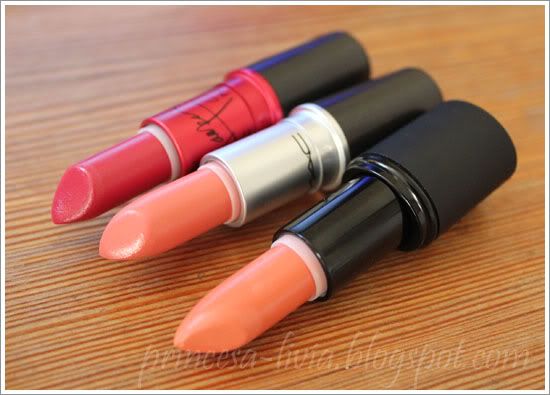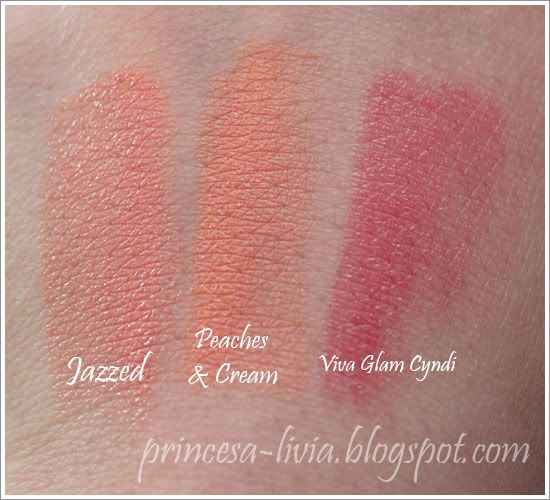 I hope this post was useful somehow. :)
*Many thanks to my bf for letting me use his DSLR for these photos... I want my own DSLR now!
:O *