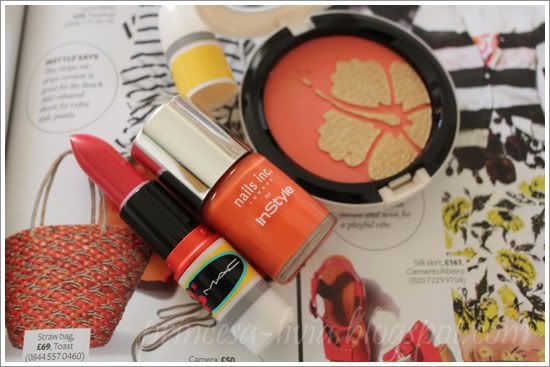 I checked out the
MAC Surf Baby Collection
last week; its this year's summer collection for MAC. I wasn't really crazy about the collection, and I walked away with items that were already on my wishlist from before. I picked up
Hibiscus
lipstick and
My Paradise
blush.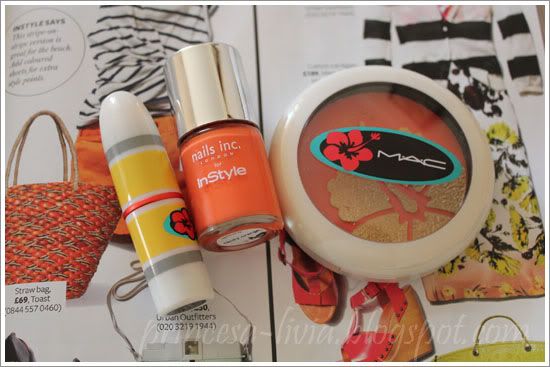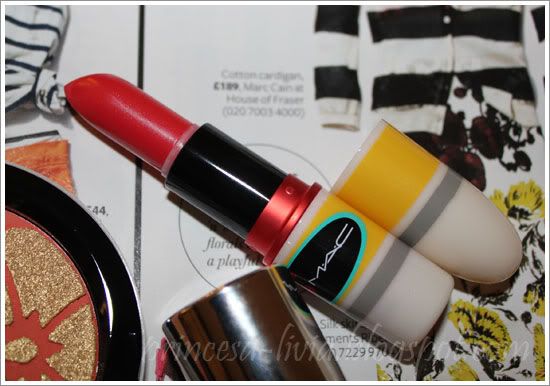 Hibiscus
lipstick is a burnt orange-red colour. With the flash, it looks like it has a few blue sparkles, which aren't very noticable at all without flash. It is creamy, and I love cream finishes. This colour is the only one that appealed to me among the lipsticks, and I think this would be a great summer lippie!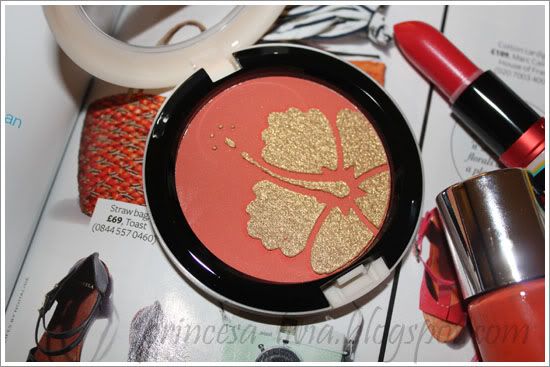 My Paradise
blush is a matte/satin burnt orange colour with gold overspray. I don't have many blushes with this colour, most of my orange coral blushes are on the lighter side. Mixed with the gold overspray, it looks like a duochrome, a darker version of MAC
Springsheen
blush. Pretty.
As many of you UK gals probably know, this month's
In Style
magazine have free
Nails Inc
polishes. I have been looking for this particular colour, perusing the different magazine stands I pass by, and I finally,
Candy Orange
is mine! ♥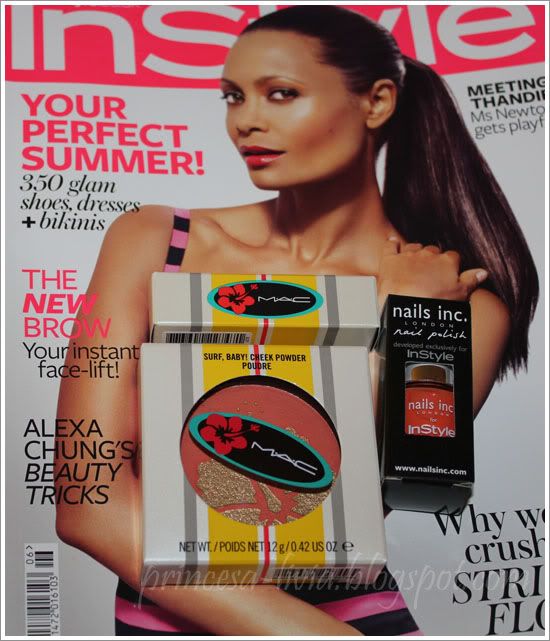 Here are swatches of the MAC products; I'll share a swatch of the nail polish once I get to paint my nails ♥
My Paradise with overspray, My Paradise orange only, Hibiscus Lipstick
Some more thoughts...
I'm not really a big fan of the packaging of the collection in general; that 'Surf Board' logo takes some getting used to. I'm happy the blush had a pretty flower on it though, otherwise I probably would not have picked it up. Haha.
I didn't fancy any of the lipglosses as I find that the regular MAC glosses are a bit too sticky. I didn't pick up any of the eyeshadows as they were quite bright and I don't think I would wear them.
There are a few more things which I kind of liked however.
I really liked the
Gold Go Lightly
bronzer - the finish was just diviine. I held out because I am planning to pick up the
Give Me Sun
mineralised skin finish natural which is also a bronzer, however, but the shop was just out of stock of it - I hope they restock it soon.
Gilded White
eye pencil was really pretty too - a shimmery white gold. It would be pretty to use on the lower lash line on the go to brighten up the eyes! But I already have
I Get No Kick
eye pencil, which is also used for the same purpose, and I haven't gotten near to finishing that yet, so I didn't pick this up...
Are you picking up anything from the Surf Baby MAC collection??