BM Beauty
is a new makeup line founded by Laura McComiskie and ex Pussycat Doll Kimberly Wyatt. In this post I will be reviewing some of their eyeshadows and a blush. I will be reviewing their powder foundation in a separate post.
BM Beauty
boasts good quality products which are...
1. Cruelty-free.
BM Beauty products have the stamp of approval from the BUAV and PETA, which are large campaigns against animal testing.
2. Free from bismuth oxychloride, parabens, nano particles and synthetic dyes and fragrances.
3. Good for your skin!
Their mineral foundations contain
zinc oxide
which is a natural anti-inflammatory which is great for spot prone skin.
4. Lightweight and allow your skin to breathe.
You can create a flawless complexion without clogging pores and causing further breakouts. Skin perfection with a 'no make up' feel.
They also have super soft synthetic brushes instead of animal hair brushes.
PRODUCT SIZES

Eyeshadows are typically available in 2g 9ml sifter jars (such as the one in the middle).
Blushes are available in 4g 20ml sifter jars (right).
Foundations are available in 10g 40ml sifter jars (not pictured), but also in small tester samples (left).


EYESHADOWS
I tried 5 of their eyeshadows, 4 of which were sample sizes and 1 was in a full size pot. I was pretty impressed with all of the colours, and the textures were good too. Most of them felt pretty smooth, with the exception of Marble Sparkle, the only gritty one. They work fine applied without a base, and they're so lightweight I can barely feel they're there! I'm sure they would adhere better with a base though.
Platinum Tiara is a silver with a slight purple tinge. Its pretty frosty.
Marble Sparkle is a glittery white gold. This one was the only one that felt a bit gritty. Beautiful colour though.
Her Majesty is a gorgeous pink gold duochrome. It is pretty frosty too.
Dusty Road is a tan colour with gold sparkles.
Mississippi Mud is a dark chocolate brown colour, the only matte of the bunch. This feels so soft and creamy, and it is a fantastic colour for the crease.
Platinum Tiara
Marble Sparkle
Her Majesty
Dusty Road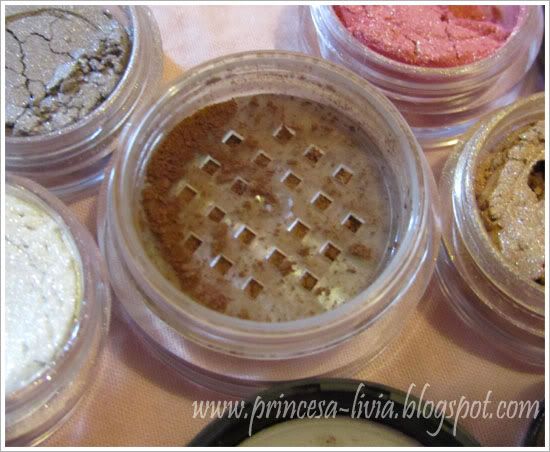 Mississippi Mud
Swatches, from L to R:
Platinum Tiara, Marble Sparkle, Her Majesty, Dusty Road, Mississippi Mud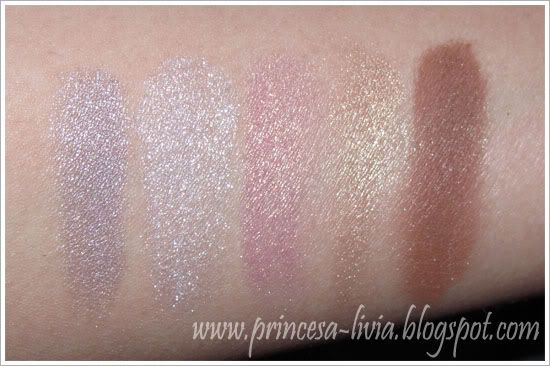 BLUSH
Velvet Dawn blush is a super soft warm medium pink colour with a few gold sparkles. It is a lot warmer in colour than Her Majesty eyeshadow as you can see in the swatch below:
Velvet Dawn blush, Her Majesty eyeshadow
Overall, I love the quality of their eyeshadows (with the exception of Marble Sparkle which is a gritty glittery hot mess) and Velvet Dawn blush. They feel very smooth and light on the skin.
The only problem I have with these products however is that they are loose powders, which makes it a bit more messy to use. Although the covers tightly seal the jars, I am also wary about carrying them in my handbag as I fear they might suddenly open and spill. If they can press these powders without compromising the textures and pigmentation, it would be fantastic!
What do you think? ♥
You can find out more information and order their products from their site here: BM Beauty.
They also offer free delivery on all orders over £25 in the UK! :)