This post
is actually to persuade myself that I don't need to purchase any more of the lipsticks from the MAC
Quite Cute
collection (namely
Candy Yum Yum
).
You can probably tell that I'm trying very hard not too, lol!
To quote my boyfriend, 'You don't need to buy any more lipsticks, you already have all the colours. Don't be too greedy!' ...though it may sound a bit harsh, he does have a point
I am being a bit greedy haha!
. I had a mental rummage of my collection, and picked out these lippies. I thought they were similar enough based on online swatches. I hope this persuades you not to buy the new lipsticks -if you were thinking about them, and if you have these lipsticks (or anything similar) in your stash!
Out of all the lipsticks in the collection,
Play Time
is the only one I picked up, and it was as my Back2MAC too. Here the rest are my 'dupes'.
Candy Yum Yum = Petals and Peacocks (blotted)
Both are bright bright blue toned pink lipsticks, but I actually think
Candy Yum Yum
is brighter, but they are similar enogh that I don't need both.
Petals and Peacocks
comes in the special
Liberty of London
packaging too, which is a plus!
Saint Germain = Melrose Mood
Saint Germain
is part of the permanent line so theres no rush to pick it up. I got
Melrose Mood
from the Heatherette collection as few years ago and they have been compared in the past. They're both cool toned well-pigmented creamy light pink lipsticks, and again, I don't need both!
Quite Cute = Fashion Mews
This lipstick has the name of the collection. I used to be in a phase where I had to purchase te product with the collection's name on it, but I'm so happy I grew out of it. I actually wasn't too impressed with the Quite Cute lipstick when I swatched it, so I'm happy to settle for Fashion Mews, which I love but hardly use! Fashion Mews is from the Hello Kitty collection.
Playing Koi = Fleshpot
Ive also had the urge to pick up
Playing Koi
lipstick despite it's bad reviews online because of how brightening it looks on the lips, which could also be translated to
concealer
lips. But still, I just cant stop thinking about it. I have
Fleshpot
lipstick though, which is just slightly more yellow, less pink, but still just as light. They're quite similar so I shouldn't need both, should I? No. I
definitely
do not need both!
I admit, A lot of these dupes I stated I haven't Used more than 3x, do there's really no point in me buying their counterparts. I believe that unless you use a colour really often, it's not cost effective buying one you would hardly use. It would be a waste of money and product.
That said, I suppose I'm glad there wasn't a real coral colour in this collection! Otherwise I would be all over it. I was looking forward to
Playing Koi
lipstick and
Miss Behave
blush to be real corals instead of being so pale, and I was just disappointed.
Swatches:
(L-R) Fleshpot, Melrose Mood, Petals and Peacocks (blotted), Fashion Mews, Play Time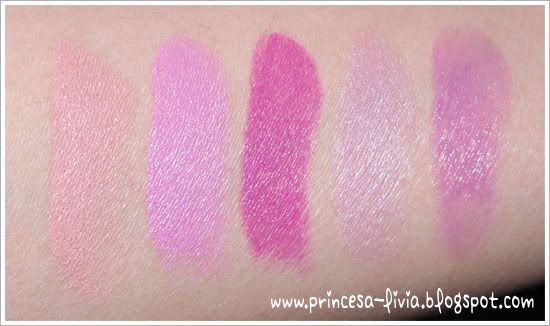 Petals and Peacocks, Petals and Peacocks Blotted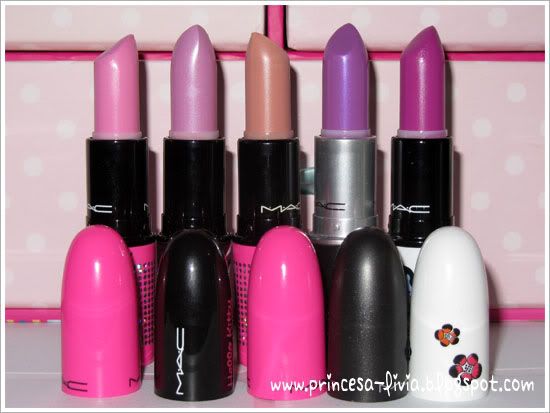 Well I hope this post was useful.
And I hope to continue to think like this from now on, and not cave in!
What do you think?? ♥