MAC Quite Cute Collection
launched in the UK MAC stores today, and I was able to check them it out. From this collection I got 2 out of the 3 blushes, 1 lipstick, and I already had 2 of the lip liners they repromoted. Keep reading for my review & swatches, ENJOY! ♥
When I saw the collection, the first thing I approached were the blushes. I was looking forward to see their super cute hearts in person! And I was not disappointed. They are lovely to look at. So cute!
Sakura mineralised blush. This blush is what I had been looking forward to in the collection. It is a lavender with a pink heart in the middle. I love its cool-tone; I feel as though it brightens my face! It is well pigmented and does not look like a glitterbomb at all unlike some past mineralised blushes. The colour is quite unique in my opinion; I don't think I have a similar coloured blush in my makeup stash!
Giggly mineralised blush. Oh I couldn't resist picking up another one *bad livia :( *. This one is a medium pink with a purple centre heart. The colour isn't as unique as the Sakura, but its very pretty and wearable for my skin tone.
I was tossing between two of the lipsticks for my Back2MAC:
Play Time
and
Candy Yum Yum
. I bumped into
Richie
at the MAC store and he was telling me about his huge haul from the collection - I hope he does a review on it! :) He was trying to convince me to get
Candy Yum Yum
as it is a gorgeous gorgeous unique matte neon pink. It looked great on my lips, but I thought I wouldn't be able to wear it as often. So I got
Play Time
instead.
Play Time lipstick
. It looks like a scary purple on the tube, but it translates rather pinky on my lips (still purple). The formula is divine - it glides on my lips and is quite forgiving for lip imperfections (unlike the matte
Candy Yum Yum)!
It's a lot tamer than
CYY
, which makes me think I'll get more use of out it.
I feel I might pick up CYY in the near future though... :s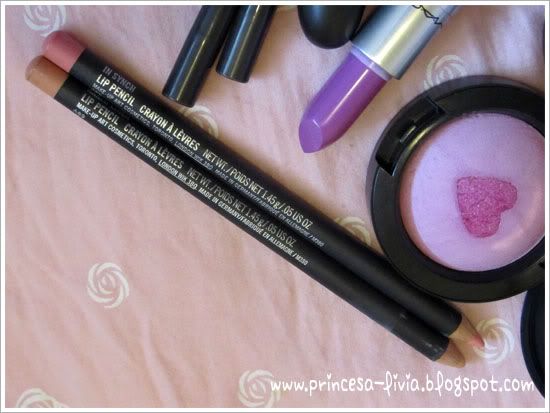 Naked Liner
and
In Synch
lip pencils. These two have been repromoted from last years collections. Read my past reviews for
Naked Liner
and
In Synch!
Now here are swatches!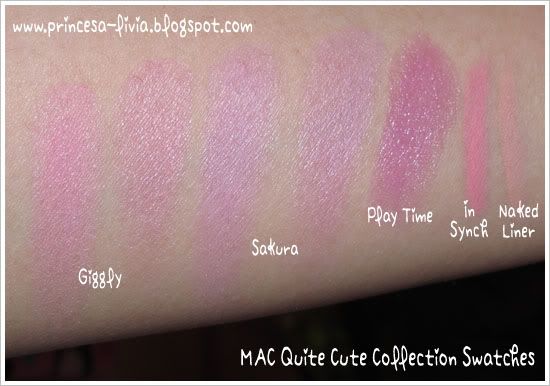 Giggly pink, Giggly swirled, Sakura lavender, Sakura swirled, Play Time lipstick, In Synch lip pencil, Naked Liner lip pencil
Daylight (no flash) in the shade swatches of the MAC
Quite Cute
Collection lipsticks and blushes: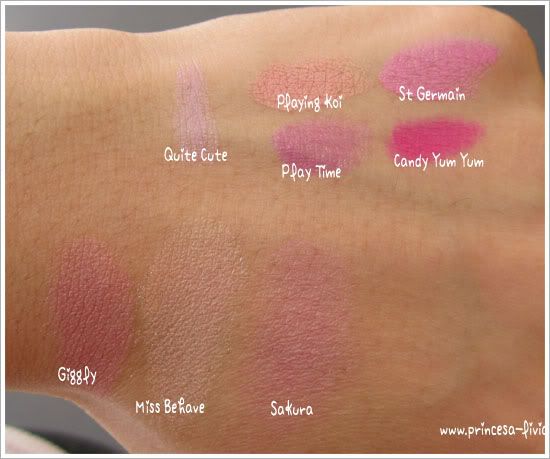 Too bad
Miss Behave
blush did not show up well on my skin tone! I wish it was more peach - I'd probably buy it if it was so.
Playing Koi
looked really pretty on the swatch, but on my lips it was pretty concealer-ey, with a hint of peach. It would probably suit lighter skin tones better!
I was not interested in the lip glosses at all as they were quite sheer (though I do like the plushglass formula!), and I did not check out the nail polishes - I could do with cheaper brands like China Glaze which are known to have even better quality!
What do you think?
Have you picked up anything from this collection?
What are your must-haves?? ♥