Hi everyone! Here are details for the upcoming MAC
Wonder Woman
Collection for Spring 2011.
I'm so excited for this collection, I can't wait!! ♥
Keep reading for collection details and photos~ !
Channel your inner superhero with the feisty new collection from M.A.C. that promises to take you from Plain Jane to gorgeous glamazon.

Inspired by D.C's most iconic heroine, the M.A.C x Wonder Woman collection is big, bold and bright. "What M.A.C and Wonder Woman both share is the idea of empowerment," says James Gager, senior vice president and creative director of M.A.C Worldwide. "Wonder Woman is empowered to do the most magical, wonderful things to save the day. With M.A.C, our products empower women by allowing them to look great and feel better than they ever have in their lives."

Look out for super-sized Mineralize Skinfinish, bold eye shadow quads, pigments, coloured Opulash, lipsticks and nail lacquer inspired by the legendary superhero, as well as a range of accessories in Wonder Woman's signature colours of bright red, blue and gold. The collection is available from March 2011 at all M.A.C locations.
Lipstick
Marquise d' Sandy cream peach (Lustre) (Limited Edition) (Repromote from Brunette, Blonde, Redhead '09)
Russian Red Intense bluish-red (Matte) (Permanent)
Spitfire Bright creamy magenta (Satin) (Limited Edition)
Heroine Brown bronze (Frost) (Limited Edition)
Lipglass
Emancipation Pale neutral pink (Limited Edition)
Wonder Woman Bright red with soft pearl (Limited Edition)
Athena's Kiss Bright blue fuchsia (Limited Edition)
Secret Identity Mid-tone copper with soft pearl (Limited Edition)
Opulash Mascara
Victorious Purple (Limited Edition)
Army of Amazons Green (Limited Edition)
Themyscira Blue (Limited Edition)
Black Black (Permanent)
Penultimate Eye Liner
Rapidblack True black (Permanent)
Nail Lacquer
Obey Me True red (Limited Edition)
Spirit of Truth Navy blue (Limited Edition)
Lash
Defiance Eyeshadow Quad
Defiance Iridescent white pink (Veluxe Pearl) (Limited Edition)
Paradise Island Soft warm pink (Satin) (Limited Edition)
Star Studded Mid-tone violet pink (Satin) (Limited Edition)
Real Drama Dark burgundy with pink pearl (Satin) (Limited Edition)
Lady Justice Eyeshadow Quad
Lady Justice Bright silver with white pearl (Frost) (Limited Edition)
Insurmountable Dirty blue grey (Veluxe Pearl) (Limited Edition)
Bold Babe Deep metal blue with white pearl (Frost) (Limited Edition)
Deep Truth True dark blue (Frost) (Permanent)
Valiant Eyeshadow Quad
Valiant Light lime with yellow pearl (Frost) (Limited Edition)
Spinning Transformation Deep olive bronze with yellow pearl (Frost) (Limited Edition)
Diana Undercover Dark forest green (Satin) (Limited Edition)
Manila Paper Pale frost white gold (Veluxe Pearl) (Limited Edition) (Repromote from Spring Colour Forecast '10)
Reflects Glitter
Reflects Pearl White glitter with pearl sheen (Glitter) (Permanent at PRO)
Reflects Bronze Sparkling rich gold (Glitter) (Permanent at PRO)
Pigment
Bright Fuchsia Bright magenta (Permanent)
Marine Ultra Vivid marine blue (Permanent at PRO)
Blush Duo
Mighty Aphordite Warm peach coral with gold pearl/Bright coral pink with gold pearl (Satin/Frost) (Limited Edition)
Amazon Princess Bright yellow pink/Deep blue pink with gold pearl (Satin/Satin) (Limited Edition)
Mineralize Skinfinish
Pink Power Peachy rose with pink shimmer/Soft rosy bronze/Soft shell pink with fine shimmer (Limited Edition)
Golden Lariat True coral with fine gold shimmer/Soft suntanned bronze/Soft gold with fine shimmer (Limited Edition)
Wonder Woman Makeup Bag
Wonder Woman Red (Limited Edition)
Bulletproof Blue (Limited Edition)
Utility Belt Eye Brush Set (Limited Edition)
Utility Belt Face Brush Set (Limited Edition)
Invincible Mirror (Limited Edition)
To be honest, I think I'm more excited about the packaging than the actual products. The packaging looks so retro~! (Which I love, although I can see it may look childish for some). Here are the products I'm looking forward to the most~ ♥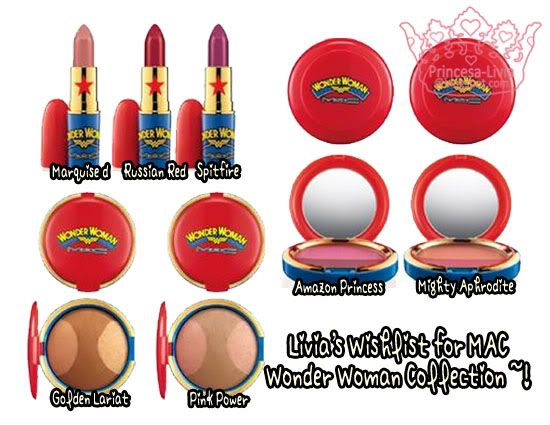 What do you think about this collection? ♥
Source
,
Source