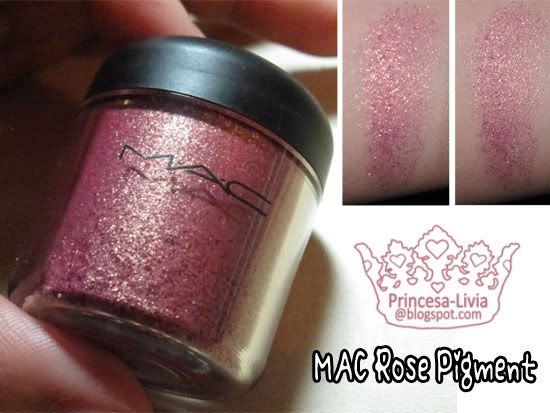 I got this random assortment of products from
MAC, Benefit, Red Earth
and some drugstore ones such as
No7
and
Rimmel
from my friend,
Ai
. (Thank you so much!) I have also checked out
Max Factor
's New
Lipfinity
lipsticks and they are gorgeous!! Keep reading for my reviews and swatches! ♥
MAC Rose pigment
. This is a rosey pink colour with a gold sheen. Its a very pretty colour but very frosty and it doesn't seem to apply as smoothly as I'd like - kind of similar to how MAC lustre eyeshadows would deposit colour.
No7 Stay Perfect eyeshadow in 40 Khaki.
This is a beautiful olive green eyeshadow with a gold sheen. It is similar to MAC
Sumptuous Olive
eyeshadow in colour and probably in texture. It applies so smoothly and evenly.
Red Earth eyeshadow in GR105
. This is a beautiful mint green eyeshadow! I don't have anything like it. It applies like a MAC veluxe pearl and it is very smooth to apply. Love the texture!
MAC Tri Colour Lipglass in Nice Mix Up
. This lipgloss looks like a slightly burnt orange, and still bright at the same time. It has flecks of gold in it. So pretty! Only downside for me is, it is quite sticky, much like a standard MAC lipglass.
Benefit Her Glossiness lip gloss in Talk to My Agent.
This is a dual ended product with two lipgloss colours. One end has a sheer hot blue-pink and the other has a sheer but sparkly mauve colour. The consistencies are less sticky than the standard MAC lipglosses, which is a plus for me! ♥ Too bad about the sheerness of the products though.
Rimmel Rose Sorbet lipstick
. This lipstick is a frosty strawberry pink. It leans coral too. Very pretty! ♥
Here are swatches of all of them in one photo: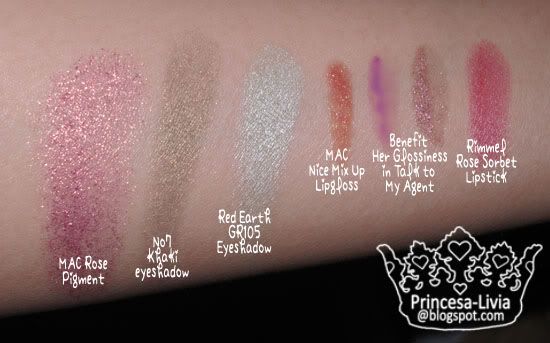 ...And now on to
Max Factor Lipfinity
lipsticks:
When I went to Boots today, I was also able to check out the NEW
Max Factor Infinity Lip Pens
, and THEY ARE GORGEOUS!! I am definitely picking up one of them. They are smooth to apply, quick to dry and last ages - so much that I was able to take photos of the swatches I made in store when I got back home! These are fabulous dupes of MAC's lip markers they came out with last year. Here are the swatches!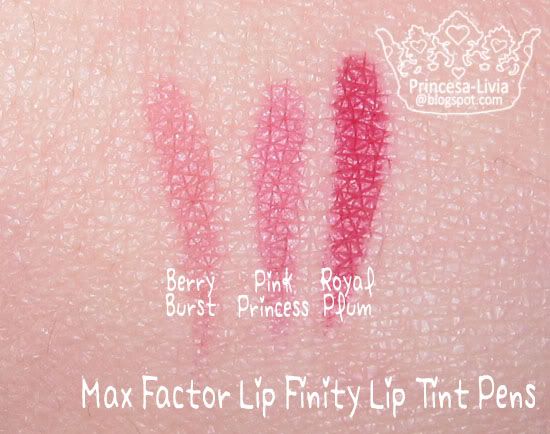 I'm slowly getting into
Benefit
because of checking out
Ai's amazing Benefit collection
(which I asked her to blog about & review soon!),
Benefit's
beautiful packaging, and
I'm starting to get bored of MAC
.
It's just the steep price tag that's holding me back though
. Imagine, a
MAC
blush averagely costs about £17, and if that isn't expensive enough, a
Benefit
blush costs about £24! Ridiculous.
But anyway
, What do you think? Have you tried any of these products? And what are your favourite products from Benefit?? ♥