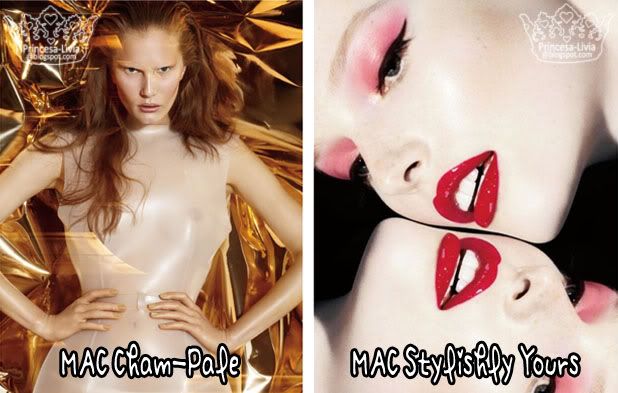 I have just seen the reviews and swatches online of the MAC
Cham-Pale
and
Stylishly Yours
collections, and I must say I cannot wait until I get to see these products in person! I am very excited about the launches.
Cham-Pale
looks kind-of blah, and I only want to get one item from it.
Stylishly Yours
on the other hand is so bright and colourful, and despite this, most of the products seem very wearable! Here are the items on my wishlist:
Credit: Temptalia.com
1.
I Get No Kick
eye pencil - This shimmery nude pencil is the ONLY thing I want from the
Cham-Pale
collection. It might be a cool alternative to matte
Naked Liner
(which is a lip liner, really!) that I would like to use on my lower waterline. ♥
Credit: Temptalia.com
2.
All the Cream Colour Bases!
- All the cream colour bases from
Stylishly Yours
seem great! But really, I'm interested in
Virgin Isle
(permanent at pro) and
Movie Star Red
(limited edition). These both are gorgeous and can be used on both lips and cheeks, not for eyes though unless you're daring.
Virgin Isle
is an orange-coral colour, which I am definitely a sucker for.
Movie Star Red
is a blue red, and seems pretty unique as a product to use on cheeks. The other two available are
Tickle Me Pink
(light pink) and
Madly Magenta
(bright magenta); I feel I have enough light pink and hot pink lip and cheek products so hopefully I will be able to pass on those.
If you haven't yet, check out
Temptalia's
posts on
Cham-Pale
and
Stylishly Yours
, and
KarlaSugar
's posts on
Cham-Pale
and
Stylishly Yours
.
Have you seen Temptalia's & Karlasugar's swatches yet?? Is there anything on your wishlist from these two collections?? ♥