Hi everyone, I'm so thrilled that my Christmas holiday has begun! Finally a break from work and time to spend with my family. And it is also time to catch up with pending posts!
When I checked out the MAC
A Tartan Tale
, I was interested in two eyeshadow palettes, namely
Dashing Lassies
filled with neutral colours, and
Beauties Play It Cool
which is purple-themed. However, despite the lovely colour combinations, I realised that I had similar colours in my eyeshadow collection, and so I constructed my own palettes with dupes of those colours. Here's a look I did using my version of '
A Dashing Lassies
'.
I used:
EYES:
MAC
Soft Ochre
paint pot (base)
MAC eyeshadows in
Espresso
(matte dark brown, crease),
Vanilla
(cream, highlight),
Hey
(sparkly beige, highlight & lower lash line)
Urban Decay eyeshadow in
Mushroom
(mushroom taupe, lid & lower lash line)
MAC Greasepaint Stick in
Slick Black
(upper lash line)
MAC
Lingering
brow pencil (brows)
L'oreal
Double Lash Extension Mascara with Serum Inside
(primer only)
Maybelline
Colossal Volume Mascara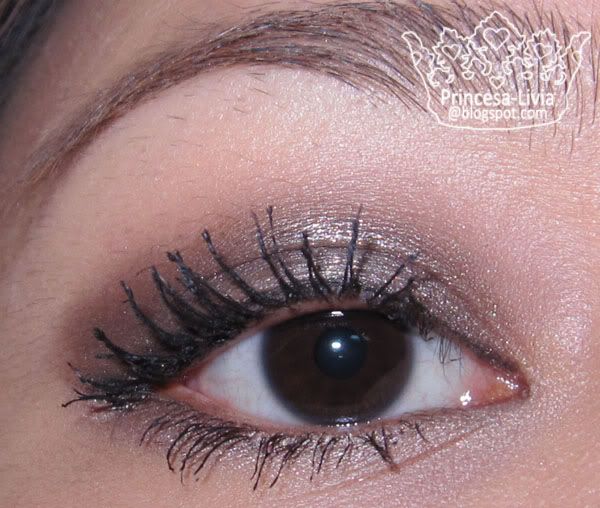 I wore this look to a Bellydancing performance. I was in a rush when I took these pictures, and I regret not taking a full face ones!
For my lashes, I used two rounds of primer and mascara, ie. primer, mascara, primer, mascara. This made my lashes look very thick and voluminous, which some of my friends mistook for falsies! I really recommend this combination. You should try it! ♥
I hope you enjoyed this eye makeup look.
Let me know what you think!
♥