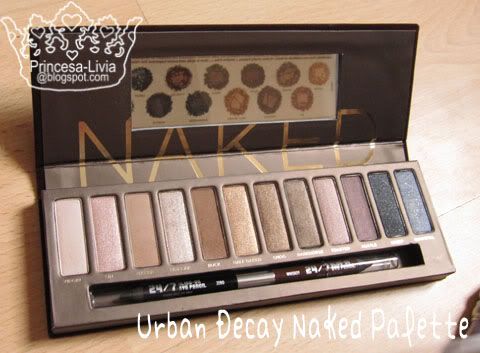 Hello everyone! I picked up this
Naked Palette
from
Urban Decay
a couple of months ago, and I only decided to blog about it now after I've used it quite a bit. I really like this palette; when I swatched them at the store I thought
blah, neutral, blah
- nothing exciting; but boy did I underestimate how versatile and useful these eyeshadows would be. Keep reading for my review and swatches!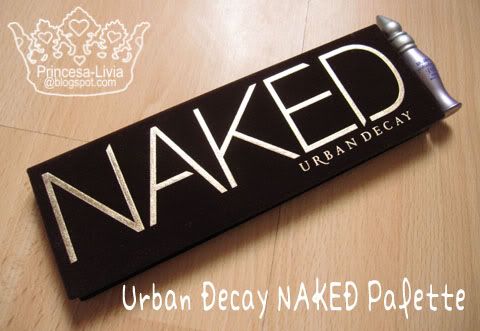 The palette is covered in luscious chocolate brown felt with gold lettering. Its a lot bigger than I envisioned it, but I like how much product there is. ♥
As for the eyeshadows themselves, they are gorgeous. They are well pigmented with lovely finishes. None of them disappoint.
Virgin
is a satin creamy-white colour.
Sin
is a frosty light pinky-taupe colour.
Naked
is a satin pinky-brown colour.
Sidecar
is a frosty yellow-taupe color.
Buck
is satin medium brown colour.
Half-Naked
is a frosty bright bronzey-gold colour. Looks similar to MAC
Amber Lights
.
Smog
is a frosty bronze colour. A bit darker than MAC
Bronze eyeshadow.
Darkhorse
is a blackened-brown colour that is slightly shimmery.
Toasted
is a shimmery pinky-taupe colour.
Hustle
is a dark brown with less shimmer than
Darkhorse
.
Creep
is a slightly shimmery dark grey.
Gunmetal
is a shimmery medium grey.
Because these are all neutrals, they are very easy to wear.
For a no-brainer 5-minute eye look:
1. I start off with an eyeshadow base all over the lid (
MAC Soft Ochre paint pot),
2. Place
Naked
on the crease,
3. Followed by
Sin, Sidecar, Half-baked
or
Toasted
on the lid and lining the lower lash line,
4. And finish off with
Virgin
or
Sin
as highlight.
* If I want my eye look to be a bit more smokey I would use
Buck
or
Creep
on the crease or outer V.
5. Line my upper lash line with MAC
Slick Black
greasepaint stick.
6. Apply mascara!
And voila! Eye makeup done!
I also have just recently ran out of my HG eyebrow pencil, MAC
Lingering
brow pencil, and
Buck
eyeshadow saved my day :3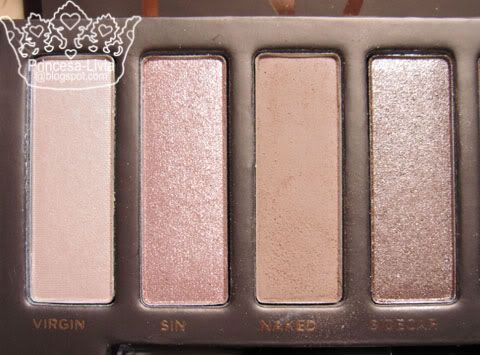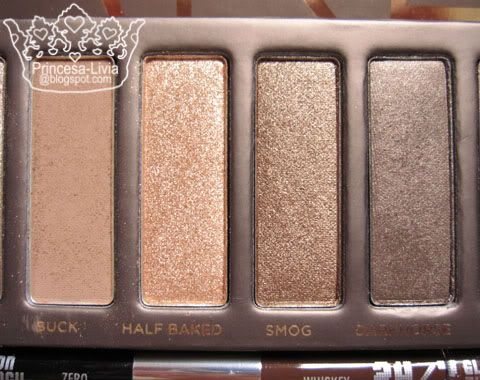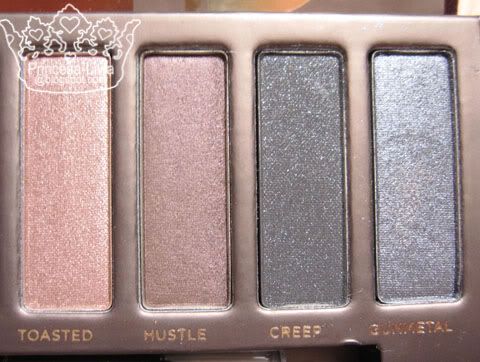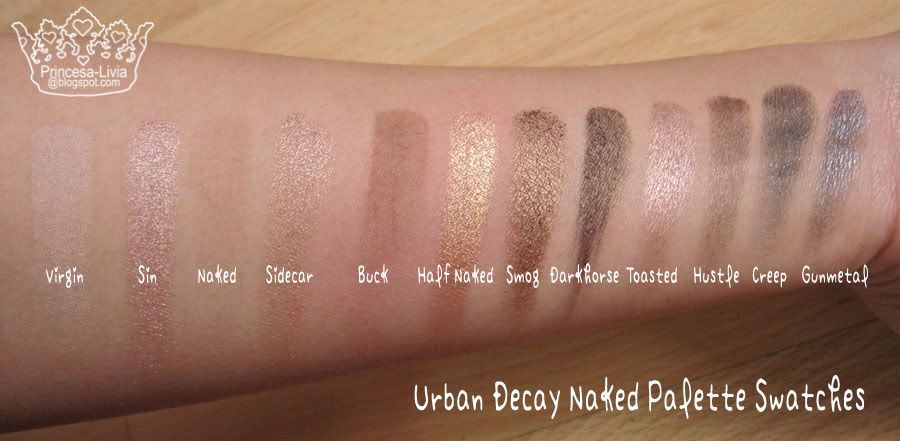 *click me to enlarge!*
This palette also comes with a double ended 24/7 liner which includes Zero (black) and Whiskey (brown). These liners are very soft to apply, but I am not to keen on these since my eyelids can be quite oily and these liners do crease on me.
I was happy to get the mini
Urban Decay Primer Potion
which has had so many raves in the beauty world. It apparently makes your eye looks crease-free and as vibrant hours later as if you just applied the eyeshadow. I haven't been using this much though, so I can't give my opinions on it yet x
I can't recommend this palette enough, but if you feel like you have enough neutrals, you could probably skip this. ♥
What do you think? Did you pick up this palette? xx