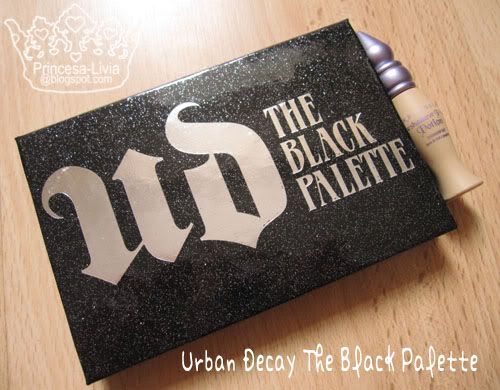 Hello everyone! I picked up
Urban Decay's The Black Palette
a few months ago together with the Urban Decay
Naked Palette
, but admittedly I haven't used it as much. It does look hot in black packaging with all the blackened shades, but it is no where near as wearable as the
Naked Palette
. This palette comes with a mini Urban Decay
24/7 Glide-on Eye Pencil
in
Zero
, and a mini eyeshadow primer potion. Keep reading for the rest of my review and swatches! ♥
This review will be about the eyeshadows themselves, the pencil and the primer potion can wait. :)
Black Dog is a dark matte black. It is very pigmented, so much more than MAC Carbon eyeshadow!
Barracuda is a mid-tone gray with silver sparkles. It is not as pigmented as Black Dog.
Jet is a dark purple with purple sparkles. This colour is lovely. My second favourite from the bunch.
Sabbath is a dark blue with medium blue sparkles; it seems pretty similar to MAC Deep Truth eyeshadow.
Cobra is my favourite eyeshadow in this palette! It is a beautifully pigmented black with gold sparkles. So pretty, I haven't seen anything like it before!
Libertine is a very dark green eyeshadow with green sparkles, which doesn't swatch so well by itself. It looks so nice in the pan, but not so much when I swatch it... Maybe it would look better on top of a base.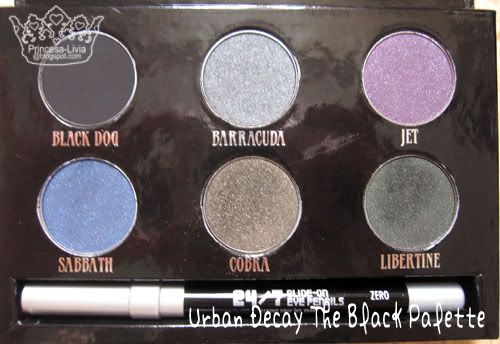 Here are swatches! No eyeshadow base. ♥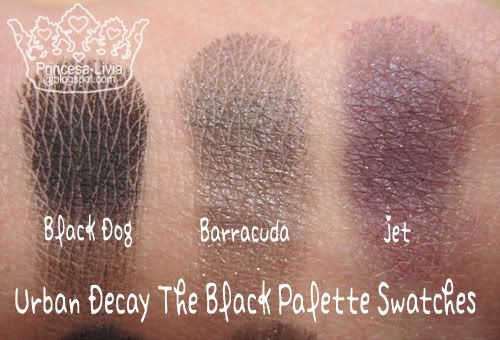 These are pretty eyeshadows and remind me of last year's MAC
Style Black
collection. They do scream 'fall' to me. If you like wearing dark shades or go out clubbing a lot, these eyeshadows should be up your alley. But if you're more of a neutral gal, pick up the Urban Decay
Naked
palette instead! ♥
I am actually very tempted to remove these from the packaging, attach magnets and labels to them and place in my MAC palettes. The packaging takes up a lot of space relative to the products themselves.
Well, I hope you enjoyed this review!
Will you pick it up??
♥