EYEKO! Nail Polishes in Vampira, Coral & Posh and Graffiti Pen in Navy Blue
I picked up these products a while back, but they have been engulfed in all my stuff that I thought I lost them. They have resurfaced however, and I am so happy to share my raving reviews with you! ♥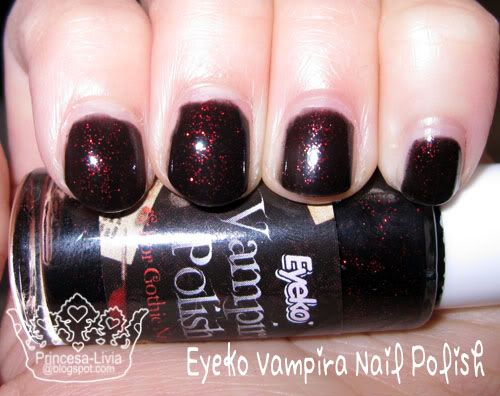 Vampira
is a gorgeous black nail polish with red flecks of glitter. Although it has these flecks, the nail polish doesn't feel gritty at all and is very easy to remove with a polish remover - unlike other glitter nail polishes. This is a pretty unique colour in my opinion. I really love it.
Coral
is another good colour, albeit dupeable. Coral was a big hit in the summer that had just passed, but if you still rocking your hot bright corals, this one is for you ♥
Posh
polish is L♥VE. It's a medium taupe-grey colour (kinda mink too?) which I am crazy about this season. Its a very London-esque colour: Kinda gloomy (like the weather), and subdued... yet stylish at the same time.
Apart from
Vampira
polish, the colours seem quite dupeable. But the thing that sets these Eyeko polishes apart from the others is that they are SO
easy to apply
, they
dry
moderately
quickly
, they are
very pigmented
and only require 1-2 coats, and the
packaging is so cute
, which is a bonus! I am thrilled to have these and I can't wait to pick up a few more. ♥
Another thing that was given to me was their
Graffiti Eyeliner Pen
in the colour
Navy Blue
. I was skeptical at first when I saw it; I thought it might just be like those other pens that don't apply colour evenly and are very faint and such. But I was terribly wrong.
The
Eyeko Graffiti Eyeliner Pen
is such a wonderful product. The felt tip is so soft, and the slightest touch deposits so much colour. It applies a line perfectly, whether you want a line that is thin or thick.
The liquid liner dries very quickly, and it is quite long-lasting: I drew these lines on my hand, and I still had them on 48 hours later! (after with mild hand washing and showering) I think this requires a proper makeup remover to take off. This also comes in
Black, Purple
and
Brown
, and I can't wait to get my hands on those other 3 ♥
What do you think? Do you own any products from Eyeko?
I'd like to hear your thoughts & recommendations coz I'd love to try out more of their products
♥
You can purchase these items from
http://www.eyeko.com/
.
I cannot recommend them enough!
Please use my Ambassador Code
E11109, and get
a
free gift
! ♥