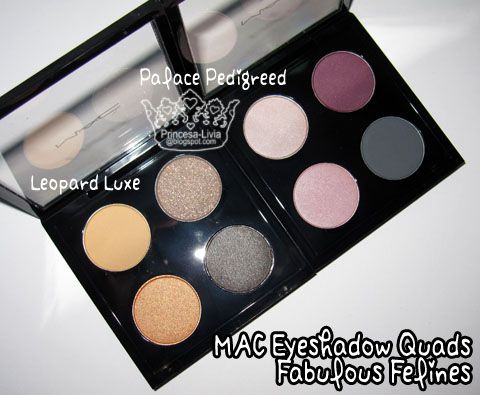 I know I said the quads from the MAC Fabulous Felines collection were nothing too special, I couldn't resist taking the Leopard Luxe and Palace Pedigreed eyeshadow quads when I was at the Heathrow airport looking at Duty Free MAC! I was really surprised they still had these quads in stock. The eyeshadows are very wearable and the colours are appropriate for both day and night, so I thought why not take them. Here are my mini-reviews and swatches!
Leopard Luxe
The Leopard Luxe is a warm-toned eyeshadow quad of golds and greys. All the colours are pretty pigmented, except for Notoriety. Wild by Nature is a matte camel colour, a lighter version of Cork eyeshadow, which I love for the crease. Style Predator is an orange-gold colour in the lovely veluxe pearl formula. Notoriety is a taupe colour with red flecks; it is the least pigmented of all four eyeshadows, which is useful to avoid over-applying the colour. I think this makes a lovely crease colour. Lastly, Furiously Fabulous is a blackened taupe colour that is a veluxe pearl.
Palace Pedigreed
The Palace Pedigreed eyeshadow quad is a cool-toned quad of pinks and purples. The eyeshadows are satin or matte colours, but they are surprisingly pigmented. This is the quad that really screams 'fall/winter' to me. I love it. Courtly is a dirty-white eyeshadow. Quite Spoiled is a medium-toned mauve. Palace Pedigreed is a dark red-toned purple. Russian Blue is a dark dusty blue-grey colour.
What do you think? Did you pick either of these up? ♥