Among the many drugstore deals at the moment,
Superdrug
is offering a 3 for 2 on
Revlon
products. To be honest, I have never been attracted to Revlon. For a drugstore brand, their product prices are quite on the high end of the spectrum, which the quality from (drugstore swatching) didn't live up to. With these products however, I was really surprised with the colours and the quality, plus with the sale going on, I decided to try them out! I ended up with the gorgeous
Summer Suede
eyeshadow quad and two lip glosses:
Coral Reef
and
Peach Petal
. Reviews and swatches after the jump~ ! ♥
The
Summer Suede
eyeshadow quad is composed of four colours (which I am comparing to MAC eyeshadows): a matte coral (reminds me of a more orange version of
Dear Cupcake
eyeshadow), a matte light pink highlighter (reminds me of
Yogurt
eyeshadow), a blue-brown duochrome (reminds me of
Club
eyeshadow or a less pigmented
Too Faced Label Whore
eyeshadow) and a soft matte baby blue eyeshadow (reminds me of the blue side of
Soften the Mood mineralised
eye shadow).
I'm really impressed by this quad.
I really love the colours as they are perfect for this season, and the quality was acceptable. The eyeshadows could have been softer or more pigmented, but that said, the application was pretty easy and these eyeshadows last pretty well on the lids!
I highly recommend this quad!
I was interested in two of the lustrous lip glosses. They are on the sticky side, but less so than standard MAC lipglosses.
Coral Reef
is an opaque coral colour. When I wear it, it seems to brighten up my entire face!
Peach Petal
is an opaque pinky-peachy nude colour. I really like this for a nude lip.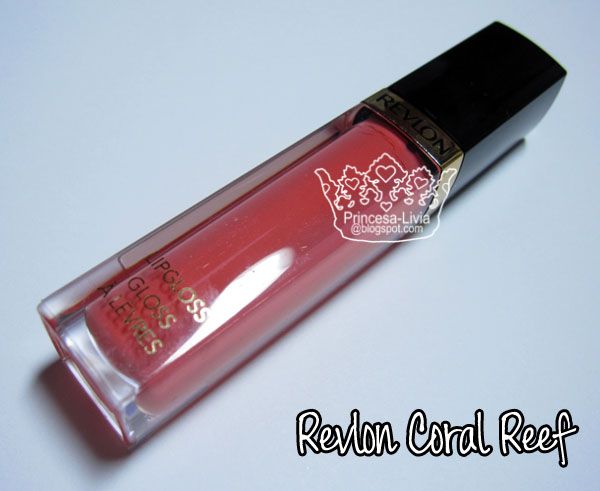 Without Flash
With Flash
I'm really impressed by these, and I am looking forward to trying out more Revlon products in the future~!
Have you tried any of these? What do you think? ♥♥