I've finally decided that I no longer like MAC's sticky standard lipgloss finish as the stickiness just drives my lips to flake! MAC Cremesheen glasses however - I love. So smooth and nonsticky, they look and feel creamy on the lips! After the gorgeous Muhsine at Bubblegarm blogged about how similar these Barry M lip gloss wands are to my favourite lipgloss finish, I was curious to try them out, and I definitely agree with her. I am hooked on these lipglosses, and they're deliciously scented too~! ♥
Keep reading for reviews, swatches and lip swatches~! ♥
I got four lip gloss wands-
Tropical Tango
,
Coral
,
Strawberry Milkshake
, and
Bubblegum
.
Tropical Tango
is an opaque neon orange colour. The colour reminds me a lot of MAC's limited edition lipstick in
Electro
from the
Neo Sci Fi
collection. It smells of sweet oranges ♥
Coral
is a sheer pinky-coral colour. Very wearable. This smells very fruity, similar to
Tropical Tango
's scent, but a bit sweeter.
Strawberry Milkshake
is a sheer pale pink. This is a good lip colour for a nude lip! And it smells of my favourite strawberries ♥
Bubblegum
is a bright opaque barbie/bubblegum-pink colour. I really like this one, and it does smell like bubblegum too.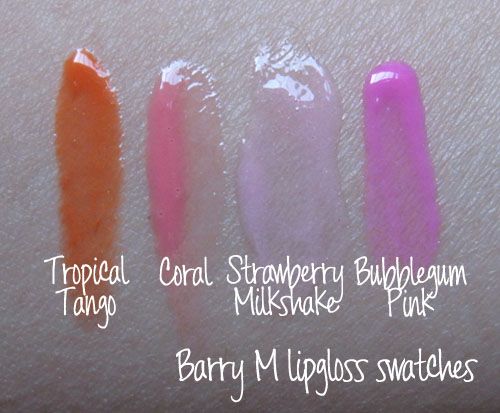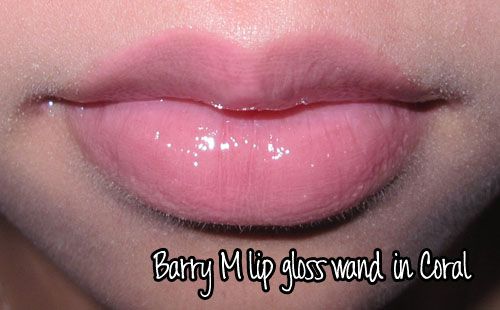 I'm in love with these! Plus you can buy three of these for the price of one MAC cremesheen glass.
Do you own any of these? If not, are you curious to try? ;)