Hi everyone! It's been a long time since my last giveaway. I'm moving to a new place, and I have some beautiful pieces I haven't touched at all, and some have been barely used. It's a waste to just throw them out, which is why I'm hosting this giveaway to let two of my lovely followers have the chance to add them in their beauty collection!
I divided my items into two sets, each with a colour theme, so you can wear an entire set together for a look! All lip products will be sanitised when you get them. x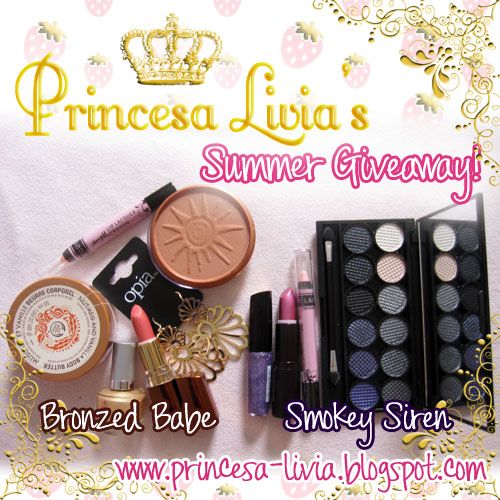 3 Rules of the giveaway:
1. You must be a follower of http://Princesa-Livia.blogspot.com
2. Comment on the contest blog post saying 'I want in!' with your e-mail address (where Livia can contact you in-case you win).
3. Blog about this giveaway, including the picture above and rules of the giveaway, and link back to the contest blog post together with the comment from #2! You can enter as many times as you like, as long as you blog about this giveaway! And believe me, I will check! ;)

That's all! Easy, right? xx

This giveaway ends on June 1, 2010 at 11:59PM GMT and is open internationally. Two (2) lucky winners will be chosen randomly. If you win, Livia will send you an e-mail, and you must reply within 24 hours of receiving it otherwise your entry will be disqualified and another entry will be chosen.
Giveaway is now closed! Thank you everyone for participating! ♥ ♥

Two (2) winners will each receive one (1) set of beauty products.

The first entry picked will win the Bronzed Babe set consisting of:
1 Rimmel lipstick in Rose Bikini (swatched 1x)
1 Rimmel Natural Bronzer SPF8 in Sun Glow (used 2x)
1 Me Me Me nail polish in Champagne (over 90% left)
1 Body Shop Body Butter in Nutmeg and Vanilla (sealed, brand new)
1 pair of gold-coloured large dangling earrings (brand new)
1 Barry M lip lacquer crayon in No.5 (baby pink, used 1x)

The second entry picked will win the Smokey Siren set consisting of:
1 Sleek eyeshadow palette in Graphite, limited edition (swatched 1x)
1 Barry M lip lacquer crayon in No.5 (baby pink, brand new and sealed)
1 Rimmel lipstick in Sugar Plum (swatched 1x)
1 Beauty UK Glitter Explosion in No.6 (purple, swatched 1x)

There's nothing to lose!! Good luck everyone!! xxxx