I got these items last week from a fellow blogger's sale.
Benefit One Hot Minute
and
Illamasqua Dixie
. Can you believe it? They're my first
Benefit
and
Illamasqua
products! Reviews, Swatches and Comparison swatches after the jump~! ♥
I've always had my eye on
One Hot Minute
. I keep swatching it when I go to Boots, but the price always puts me off. I mean its more expensive than a MAC MSF! It's a finely milled shimmery gold-toned powder. It's very good for highlighting the cheekbones or under the brows, or all over the face for a glowy look.
This is my first time trying an
Illamasqua
blush, and my first time trying an
Illamasqua
product! It's because I've been using MAC for so long, and I feel as though its 'safe' buying their products. I know my skin's generally happy with them, and I generally like the brand too. And I'm pretty sure that - as long as its a colour I like - I wont have any reason to regret the purchase other than having spent some money.
Back to the review, I'm really impressed by this
Illamasqua
blush in
Dixie
. I would describe it as a burnt coral colour. Judging by the pan, it looks in between MAC cremeblend blushes in
So Sweet, So Easy
and
Joie-de-Vivre,
leaning more towards the latter. On the swatches however,
Dixie
is darker and a lot more sheer than
Joie-de-Vivre
, so I have no worries on applying too much! It is also more orangey/less pink than
JDV
.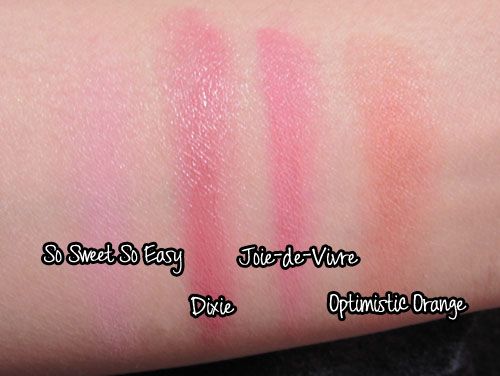 So what do you think? Have you tried these products? ♥