*Sorry about the mess in my room, I didn't bother to fix the clutter up lol.*
This is one of the very few fashion posts I've done on this blog; a lot less than I would like. Everyone who knows me think I have a pretty good sense of style, but its just a shame I couldn't share it with you all. Its mainly because the lighting in my room is not the best, and the sun sets quite early most of the year in London. However, now that its summer, I have the sun on my side, and I've just figured out camera settings to produce better night-time, indoor, poor-lighting photos! So, I am pleased to let you know that you can to expect a few more fashion posts from me now on. ♥ I picked up 4 things or packs of things: a dress, pack of nude tights, funky tights, and a pack of cute socks. Most for less than £5 each! I'm really happy with that. I don't usually splurge on clothes, and I take pride in budget-fashion lol! Keep reading for details! ♥
I bought this cream dress with coral flowers from Primark for about £5. I don't know if it's meant to be a dress or a long top, but since I'm small, it works well as a dress for me! I love how it fits my body really well. I'm so happy with this find! ♥
The weather's pretty iffy now. It's mostly warm, but sometimes it can get chilly. I'd like to wear skirts and dresses more often as summer approaches, and I thought some nude tights would be useful. I was contemplating whether to get glossy or matte ones, but I settled for these glossy ones from Primark. A pack of 5 for £3! What a steal.
I also got these tights from
Miss Selfridge
. They're called
Chain Detail
tights, and they're so cool! They are sheer nude tights with some black chain print on. One of my friends thought it looked like tattoos lol. Really pretty tattoos though! My only complaint with these though is that I thought the chain detail would be much higher up the thigh - it's actually mid-thigh, for me at least. I don't remember how much this one costs, but I think it was around £8, with a 10% student discount after that.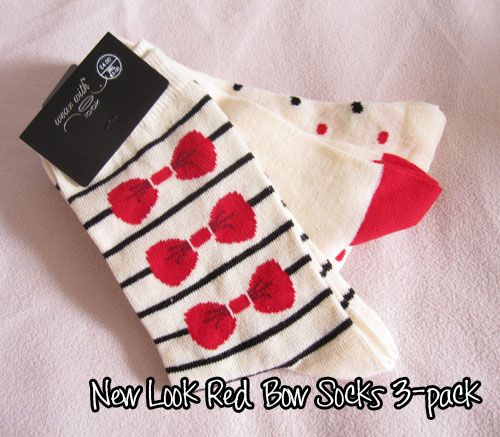 I was browsing through New Look, and as soon as I spotted this, I just had to have it! I love anything with bows, and this pack of socks was really pretty. Fits in with the nautical fashion trend. I plan to wear this with pumps. But will see. It retails for £4, but I got away with a 20% discount, so I paid £3.20. Not much, but hey, every little helps! :)
I hope you enjoyed this post guys! Let me know what you think ♥