Hi everyone! I'd like to share with you a two-post series of my must-have makeup brushes. This post will be about my favourite face brushes – the ones I use on a regular basis. The next post in this series will be about my essential eye makeup brushes. These are mostly MAC brushes, since I just love the quality. I've had some of them for over a year and I can see no difference in the quality compared to when I first had them! So they're definitely worth the splurge. I also take care of my belongings well, so that might account for part of their longevity, and I use the MAC brush cleanser for these. I'll rave about that in another post. I'll concentrate on just the face brushes for now! I understand MAC brushes can be a bit pricey, so I will be describing them so that you might be able to find some cheaper alternatives from other brands. Well, keep reading to see my reviews on the individual products!
I only have 3 brushes that I've found to be my must-haves so far, and 3 brushes additional brushes, which are nice-to-have. So I'll start with my must-have face brushes:
*fake* 150 brush – This is a large fluffy domed brush. I use this to apply face powder, as it applies the right amount, without looking too cakey. I just tap it on my compact, and lightly dust over the face. Very useful. This brush is actually not genuine MAC, so I'm sure you can easily find a large fluffy brush in other brands not necessarily MAC. I bought this from e-bay about 2-3 years ago when I was still a MAC newbie, and I didn't know then that fake MAC brushes existed! Well, it works well for me, and the quality is still good.


130
brush – This brush I super-love. It is a small flat-ended, circular brush. It has super-soft white bristles and also black bristles. Not scratchy at all. It is also quite dense, so I use this for
liquid foundations
such as MAC
Studio Sculpt
and
Face and Body
. It leaves me a flawless finish without streaking. It lets you build coverage from light-to-heavy, which I really love. I usually apply an even layer to my face, and then build on areas where I need more coverage. I also use this brush for
cream blushes
, it works just as well. For both uses, I stipple on areas where I want it, and then buff the colour with small circular motions. My face is quite small so the small brush works well for me!
My bf got me this for Valentine's day this year
, many thanks to him! ♥ I'd like to get another one though so I don't have to keep cleaning it between foundation and blush applications. It will be re-released in the
To The Beach
collection in a month's time, so I'd like to pick up another one then. :)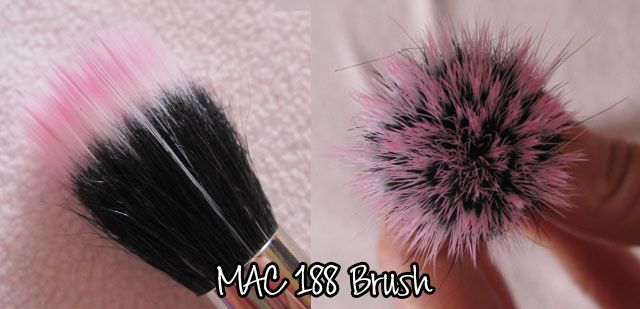 188
brush – This is a small stippling brush. It has super-soft white bristles which are a lot longer than the
131
above, and black bristles at the base. It is less dense than the
130
, and therefore more flimsy. I use this to apply powder blush on my cheeks. It lets me control the amount I want, so it works well with even pigmented blushes. I used to use the
116
brush for blush, but that one's just too scratchy. My sensitive skin didn't react well to that. My cheeks started getting rough patches. My skin loves the soft
188
though. I wouldn't recommend this for foundation, as it can be quite streaky. Like the
130
above,
my bf got me this brush too! For Christmas 2009
. =) Ah I'm so lucky lol.
3 nice-to-have brushes: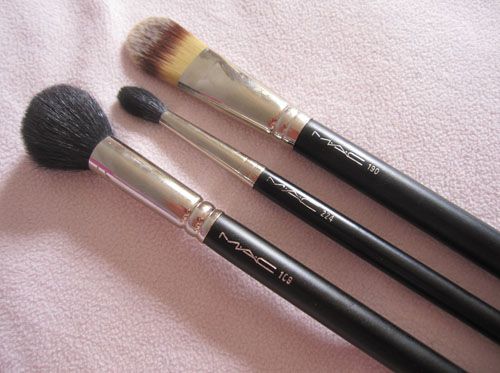 *fake* 190 brush – This I got from the same fake MAC set I bought with the *fake* 150 brush. It is a flat synthetic brush, which I use to apply face primers and the like when I don't want to use my fingers. A lot of people use these brushes for foundation, but the application can be quite streaky. It is useful, but I don't feel you *need* to have it.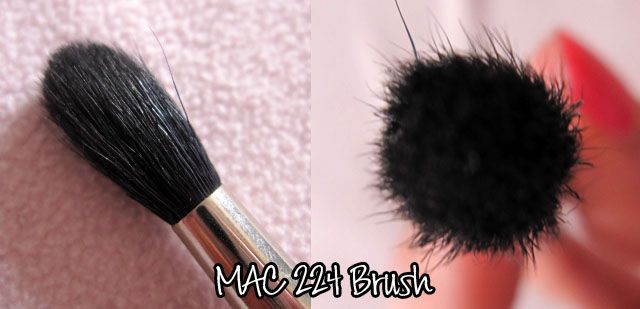 224 brush – This is a small fluffy domed brush. I use this to apply concealer, especially on the under-eye area, when I don't want to use my fingers.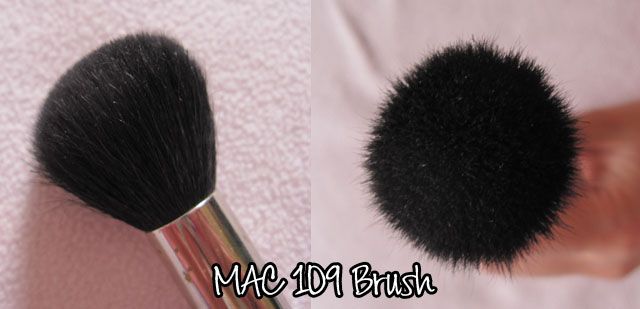 109 brush – This is a circular flat-topped brush. I used to use this for contour, but like the 116 brush I mentioned above, it was a bit scratchy and I got rashes on my cheeks. I still use this to apply less-pigmented blushes though. I just gently tap them on my cheeks with the flat brush top. Not much buffing as my skin doesn't like that with this brush!
So those are my 3 must-have brushes and 3 nice-to-have brushes. It's not a very big list, and I feel I can do away with the other face brushes I have. Might add some to my blog sale =)
I hope this post was useful! What are your must-have face brushes? Please do share! ♥