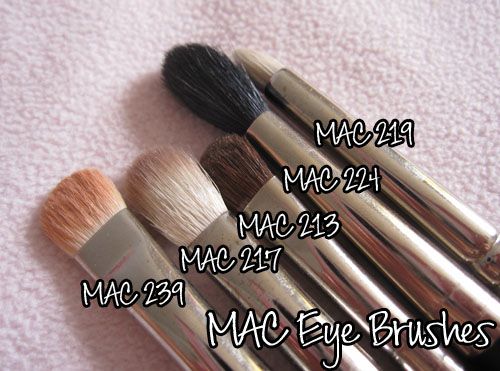 Hi everyone! I talked about
my must-have face brushes
in a previous post, and this one is about my must-have eye brushes. I have a lot more favourite eye brushes than face brushes, because I like to experiment with the different uses of each brushes, and find that they work well for multi-purposes, which is always a good thing. These are all
MAC brushes
, so I understand they can be a bit pricey. But as I mentioned in my previous post, they are all great quality, and I see no difference in them now compared to when I first acquired them! I take care of my belongings pretty well though, so that could partially be why, but I will try my best to describe these brushes to you so you can probably find good alternatives from other brands. Well keep reading for my review on the individual eye brushes!
I have 5 must-have eye brushes at the moment. My list for eye brushes actually changes every few months. So these are the ones for NOW!
239 brush – Flat dense eye brush. It has white fibres which are really soft, but because the bristles are quite packed, it is also firm! I use this to apply eye bases, such as paint pots, when I don't want to use my fingers. This is also great for packing eyeshadows on the lid. For a more vibrant application, pat colour on your lid, don't sweep. The flat top is also good to line the lower lash line, or to trace under your brow with a highlight colour.
217 brush – Small domed fluffy brush. The white bristles are really very soft! The bristles are not quite as packed as the 239 so it's less firm. This is good for applying a wash of colour on the lid, and especially to apply colours on the crease. I love this one a lot; I actually want a second lol.
213 brush – The 213 is a less dense version of the 239. It is also soft, but is less firm. This is my first ever MAC brush, recommended by 2 MAC makeup artists when I wanted to purchase a MAC eye brush. It works well to apply colour on the lid, soft enough to use on the crease, and I've been using it to apply highlight colours underneath the brow if my 239 had been used to apply a different colour.
224 brush – Small fluffy dome brush. I've only recently discovered its wonders for eyeshadow application! I only used this for concealers before, but boy am I amazed with this one. I use this to blend out colour between my crease colour and brow highlight using a neutral/skin-toned eyeshadow, as sometimes the crease colour can be a bit dark and harsh. This works wonders. You really should try this! Although the black bristles are not the softest in the world.
219 brush – Small pencil brush. Soft white fibres. This is quite dense, and I love it. I use it to mark the upper/outer boundary for my crease colour, as my eyes are not really deep-set and so my crease is not very well defined, and then I fill in with the 217 brush. This is also great for applying eyeshadows on the lower lash line as it is a lot more precise than the 239, and it is also good for highlighting the inner corner of your eyes.
So those are my must-have eye brushes so far! I still have not found my HG brush for cream liners such as MAC fluidlines. I have tried the 266, Sonia Kashuk bent liner brush, and Ms Makeup angled liner brush, but they don't do it for me. I'm thinking of trying the MAC 209 brush or something. Any recommendations?
I hope this was helpful. Any questions? What are your must-have eye brushes? ♥