EDIT: Added link to E-bay seller's store!
Hi everyone! I'd like to share with you my kind-a big China Glaze haul. I've been hearing good things about the nail polish brand and I don't know where they're sold in the UK (and if they were they would be really overpriced!) so I decided to purchase some from eBay.
I looked for sellers with high ratings (there are quite a few out there!) and I decided to purchase nail polishes from
beautyzone2007
. This seller has over 20 thousand positive feedback, and based on their service I can see why! It took 1 week for international shipping, and my items were well wrapped. Their prices are not bad either; 1 OPI/China Glaze nail polish for the price of a UK drug store nail varnish, already including shipping fees.
I had a few minor problems with them however. They sometimes list products they don't have in stock, and there seems to be an inconsistency with communication skills. Two of the items I initially chose weren't in stock. I just don't understand why they would list things they don't have. However they did offer to replace my orders with alternatives instead, and one of those I chose from their list of products wasn't available too! :s Then without asking whether I wanted something else, they sent me an immediate refund for the one they don't have, which I thought was a bit rude. I mean I could have wanted to choose something else right? They didn't email me either to tell me they'd sent the refund, I just got an email from Paypal saying I got a refund from Maggie whatshername, and how am I supposed to know who that was? I just worked it out from the amount they sent back that it was them. And later I had to confirm it with them myself. Also sometimes they would understand my emails and respond in correct English grammar, whereas other times they don't seem to.
But all these aside, I got my products in very good condition and quite quickly for an overseas order so I am very pleased and I am eager to buy more products from them. I recommend this seller. :)
I searched Google for the most popular
China Glaze
nail polishes and came across a few amazing nail polish blogs such as
All Lacquered Up
, watched a few YouTube videos and among those mentioned I chose colours I thought I would actually wear. I searched for those items in the seller's eBay homepage and I chose the following...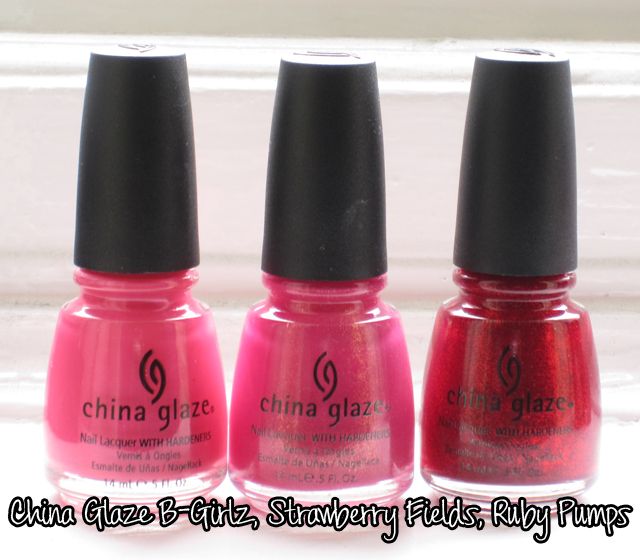 China Glaze B-Girlz, Strawberry Fields, Ruby Pumps
From info online,
Ruby Pumps, Dorothy Who?
and
Good Witch?
are from the
China Glaze Wizard of Ohh Ahz collection
.
Watermelon Rind
and
Strawberry Fields
are from the
China Glaze Summer Days collection
.
B-Girlz
is from the
Kicks
collection,
Preppy Pink
is one of the
China Glaze Glitters
, and
For Audrey
is one of the core colours.
I will be posting up swatches and individual reviews as I use them. I'm really excited to wear them and share them with you! ♥
Have you tried China Glaze nail polishes? What are your favourites? I'd like some recommendations to try too! xx