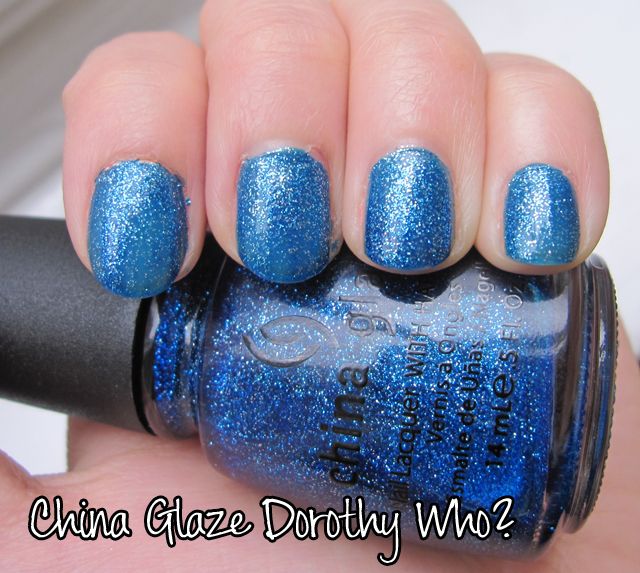 This is
China Glaze
in
Dorothy Who?
. 2 coats; no base coat or top coat. Its a medium blue with silver sparkles, and came out with the
China Glaze Wizard of Ooh Ahz collection.
I wore this last week, but I wanted to wait at least a week or until I got some polish chipping so I can share a good review with you all :)
I'm really impressed
with
China Glaze Dorothy Who?
. The nail polish has a gel feel to it and applies easily. I was a bit alarmed that it was streaky with the first coat, but it evened out with a second. It dries quickly and it didn't stain my nails. It lasted 5 days until I got some tip wear.
Amazing!
♥
Although glittery nail polishes are notorious for feeling gritty and being difficult to remove, I had no such problems with
Dorothy Who?
. It didn't feel gritty at all. Although it wasn't a dream to remove, it wasn't as difficult as removing removing
OPI Mad Hatter
nail polish, which was hell!
This is the first
China Glaze
nail polish I've tried, and as you can see I did some
China Glaze
hauling in my previous post! I chose to wear this first to match the blue denim look I've been sporting during the week. I am in-love with this colour and this nail polish formula and I urge you to try it out if you haven't yet! ♥
What do you think of this? Would you wear it?? xx