Finally I get to post my haul and review! I know this is a bit late, but here's my loot from the MAC Warm and Cozy collection. Its probably one of the biggest launch hauls I've had so far, but no I did not buy these all in one go, rather its a cumulative haul! Read more for individual product reviews and swatches :) ♥

I got two shadesticks, Cuddle and Relaxed. Cuddle is a frosty gold, and I'm a sucker for anything gold! Relaxed is a frosty dark bronze colour. I got these two because they make really good eyeshadows and eyeshadow bases. They're so smooth to apply. I use these for a very quick look when I'm in a rush: Face powder, 1 stroke on each upper lash line, and smack on lipstick/lipgloss and I'm ready!



I got two eyeshadows, Modelette and Mulled Cider. I admit I purchased Modelette largely just because of the name. When its swatched, I found that its a lot like my skin tone, just with a sheen. Not sparkle. A sheen, as you can see on the swatch. Not particularly a must-have. But meh. Mulled Cider is a medium brown on the reddish side. I thought this might be a good crease colour so I'll have something to alternate Cork with! Which is also on the yellower side.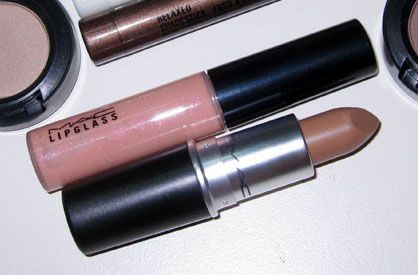 I thought I could skip the lip products, but when I was at the store, I thought 'why not try them anyway'. I put on Siss lipstick and I was gobsmacked! I think its the best nude lipstick I've ever tried! It does not give me concealer lips like Fleshpot. It has yellow undertones, which go well with my oriental skin. I love its creamy opaque satin finish too. However its in the permanent line, so no need to rush to get this. --EDIT: I have been told Siss is being discontinued!! Grab one tube when you can!!♥-- But I couldn't stop looking at my lips in the mirror lol, I couldn't wait and just had to have it! I initially didn't fancy any of the lip glosses, and I should have learned from finding Siss! So I swatched the lipglosses anyway, and I fell in love with Feeling Dreamy. Its a nude gloss with very fine and pretty pink sparkles! I couldn't stop staring at the swatch on my arm, and when I put it on top of Siss, it was beautiful. Since its also a nude colour, Feeling Dreamy is easy to wear everyday. And I have been wearing it everyday! ♥

Well that's my review. Here are the swatches!



Cuddle, Relaxed, Modelette, Mulled Cider, Siss, Feeling Dreamy


I have two more items that a friend has purchased for me but I will have to wait until the exams are over before I can take them from her. ♥

I really liked this collection (as you can probably tell) because of how wearable all of these products are. They are great every day shades. Although the colours might not seem unique (eg eyeshadows), I think I'll get a lot of use from these. ♥

I hope this was useful! Were you able to check this collection out? What's the one product you felt was a must-have from the MAC Warm and Cozy collection?? ♥