The
gorgeous
Gaby from
http://gabysbeautyblog.blogspot.com/
tagged me to find 7 products in my room that are the colour Grey! So here's what I've come up with ~
1. Shu Uemura eyelash curler - I love this lash curler and I've been using it for the past 2 years!


2. Grey hat - I bought this one from Accessorize. Goes well with my biker jacket from New Look :)


3. Soap & Glory Glam-a-lot body spray - This is new and I'm loving the scent. It smells of a sweet vanilla - yum!!


4. Grey Belt - I bought this from one of the shops in my hometown Davao City, Philippines.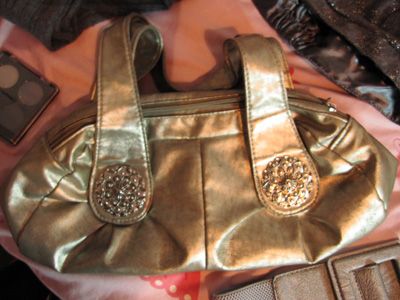 5. Silver Bag - In my eyes, silver and grey are almost synonymous which is why I added it to the bunch. I've had this for about 3 years now and it still looks great on days out.


6. MAC Tone: Grey quad - from the MAC Trend F/W collection. The colours look wonderful together!


7. Long socks with Laces and Ribbons - This is from Accessorize again. I just love this pair of knee-high socks. Its fantastic with mid-calf or ankle boots and skirts!

So there you have it guys!! I now tag these 7 GORGEOUS ladies to find 7 WHITE things to post on your blogs!! Be sure to tag 7 others, and of course, to HAVE FUN!

Akisa from http://www.akisalove.com/

Jacquelyn from http://fabdiva20.blogspot.com/

Julia from http://aralka.blogspot.com/

Karrie from http://mackarrie.blogspot.com/

Marce from http://eltrendebelleza.blogspot.com/

Mevish from http://goldbeautymua-mevish.blogspot.com/

Vixxan from http://theglamshack.blogspot.com/

So these are my 7 ladies, be sure to check their blogs out!!!

Thanks for reading guys! Hope you enjoyed this post xxx