I'm not much a nail-beauty addict. My nail-care routine has always been pretty simple: 1.) Cut with a nail trimmer & 2.) Shape with a nail file. No polish! Wearing nail polish was forbidden in my grade school and high school years, and in Uni, well, future doctors need clean hands AND nails you see.
But this year's the year I'm doing my Integrated Bachelor of Science degree, kinda a break from medicine - I say 'kinda' because my course is still medically-related. But at least now I'm able to use polish everyday!
Which is why I've been posting nail polish hauls. So now my nail-care routine includes a 3rd step: Adding polish.

After about 3-4 days my nail varnish chips and I re-do them when I have the time. But when I remove my red polish, I find my nails stained a bit yellow!


Source

Well not this yellow, I just didn't want to post a photo of my yellowing nails.

I was horrified and browsed through a few of my favourite beauty blogs and saw that they used base coats. And then top coats. So I went to my nearest Boots store and bought this~

Its a 3 in 1 product: A base coat, a top coat & a nail strengthener. Sounds great right?

But did it work?.

Oh yes you bet it did!

No more nail stains! And the best part of it is that its been 5 days and my polish hasn't chipped a bit! However my nails are growing longer, and soon it will be time for a new polish.

So from now on, my nail routine has 5 steps:
1. Base coat
2. Trim
3. Shape
4. Polish
5. Top coat

~ adding the 2 extra steps is well worth it!
This base & top coat product dries quite quickly so its not much of a waiting pain.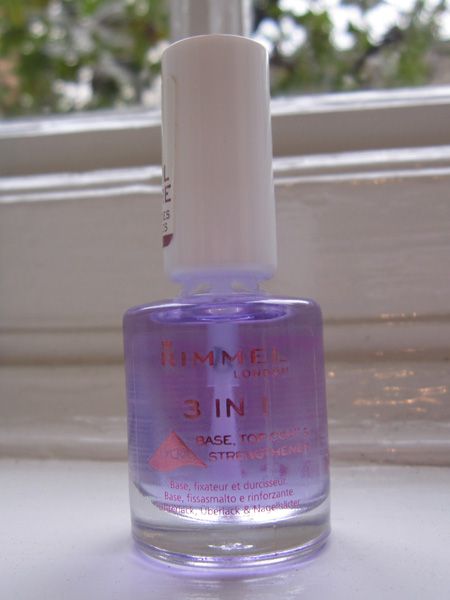 This blogging world is amazing. We are able to learn tips and tricks from each other as well as gathering inspiration for our day-to-day lives! A big thank you to all you bloggers out there xx

Do you have any more nail care tips you can share? That would help me a lot!! ♥♥

THANKS FOR READING!! xx