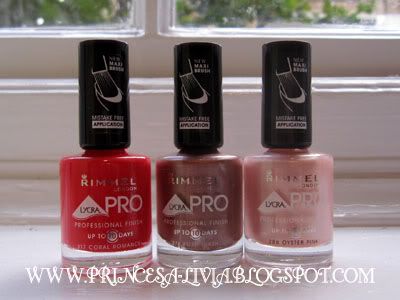 I got Rimmel nail polishes in the shades Coral Romance, Posh Trash and Oyster Pink.

Can't wait to use them! I have 3 other nail polishes from Rimmel in the same finish. I love that it has a JUMBO brush which makes easier and faster to cover each nail. It dries up pretty quickly, and its stronger and longer wearing than the others I've tried so far!

I plan to rotate these trendy nail colours every week, along with my every day makeup to match for that week!

How often do you change nail colours?? ♥

Ps. I noticed that Superdrug has a wider selection of these nail polishes than Boots. I'd love to get Beige Style, Coral Queen and a 3rd one I can't quite remember now, but I'll wait until Superdrug goes on sale before I'll truly consider purchasing these others!