Hi everyone! I've been busy for the last two weeks, barely managing to put any blog posts up. I had uni projects due in, and I just finished the last one for this first module at 8am today! (Yea that's right, I stayed up all night doing my project, but who hasn't tried that in their life? ;) ) My body clock woke me up 3 hours later, and now I feel really knackered and a bit sick. :s
I've been wanting to do this post for ages, and now I have the time! Continue reading after the cut for my top 10 favourite pink makeup-related things for the Breast Cancer Awareness Month, and a new bag I'm bustin' out today~! xx
MY 10 FAVOURITE (makeup-related) PINK THINGS

L-R back: MAC lipsticks in Bombshell and Plink, L'oreal Strawberry Sorbet lipgloss, MAC lip glosses in Pastel Emotion, Steppin' Out, Love Alert
L-R front: MAC Moon River blush, B Bobo lip gloss, MAC Fresh Cut palette, MAC Pink Swoon blush

I got this idea from a fellow blogger, Carlinn, who did her post on her favourite pink things early October for the breast cancer awareness month! It's still October now, so its not too late for me - better late than never right?. :)

MAC Bombshell lipstick is a frosty mid-tone pink lipstick. I've had this for a long time, and its almost finished!
MAC Plink! lipstick is a pale peachy-pink lipstick that makes a good nude lipstick for me without washing me out. It gives a 'wet' look as if it were a gloss.
L'oreal Glam Shine lip gloss in Strawberry Sorbet was my favourite lip gloss before I got into MAC. It makes my face look brighter without being overdone.
MAC Pastel Emotion lip gloss came out in the Emmanuel Ungaro MAC line last fall '08, and its a milky pink colour with a lot of tiny multicoloured sparkles.
MAC Steppin' Out dazzleglass is a peachy-coral pink coloured gloss that's so sparkly!
MAC Love Alert dazzleglass is a cherry pink colour (bordering on red) that looks fantastic over red lipsticks, or to darken pink ones. I love this one a lot.
MAC Moon River blush is a mineralized blush that has two halves, one is a pale peachy pink and the other is a melange of white, peach, pink and purple. I use this one everyday, it gives me a nice subtle glow that looks fab in pictures!
B Bobo lipgloss is a bright hot pink colour with tiny sparkles.
MAC Fresh Cut palette is a pink themed palette from the Graphic Gardens collection. It has a wonderful combination of pinks and peaches, which are all wearable shades. I'm so happy I picked this one up.
MAC Pink Swoon blush is a pale pink blush without shimmers. It gives me a natural innocent flush to my cheeks. It is in MAC's permanent line, but I got this one from the Manish Arora collection last year in special packaging.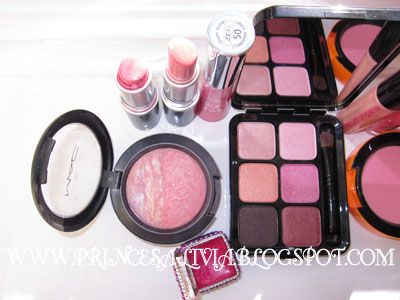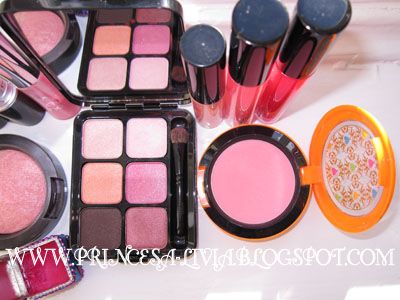 MY NEW BAG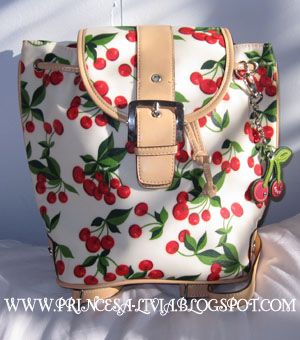 My mom gave this to me on my birthday in July early this year, but I've never used it yet, so its new! I was so thrilled when she handed this to me. Its a beige coloured mini-rucksack (knapsack whatever you wanna call it) with cherry designs and a giant cherry charm! I love cherries and my mom picked right! This bag is from the brand Maraschino.

So that finishes my post, I hope you enjoyed it! I'd love to know your top favourite pink makeup things, and see if we match. xx

Till later gals~!