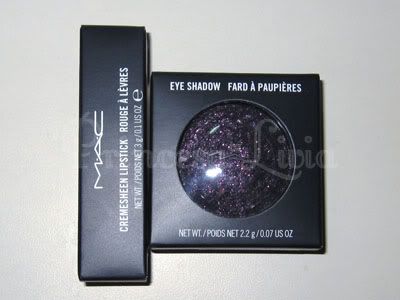 Hi everyone!
MAC UK
has launched a few collections today the 1st of October, mainly
Style Black
,
DSquared2
and the
Dazzlecremes
. This post will mainly be about my mini-haul from the Style Black collection, and swatches of the products I got. I already bought items from
DSquared2
early last month, and you can find my swatches and reviews by typing DSquared2 in the search button on the right. Well, lets get on to what I got from this collection~!

I only got 2 items from the MAC Style Black collection, since I've limited myself to buying only 1 item per collection; however one of the two items was a Back2MAC so that doesn't count. haha :)



Looking at the displayer, only one thing caught my eye. It was Young Punk mineralized eyeshadow. Its super pretty; If I were to describe it, its an eyeshadow with purple shimmer over a black base. The gold one, Gilt By Association, was pretty too, but I found Young Punk to be muuuch much more stunning.



Contrary to what I was saying in my other earlier posts... well... I took the black lippie called Black Knight for my Back2MAC. It was impulse really, I thought it would be cool. However, trying it on now, I doubt I'll wear this going out. I'll try it under a few red lipsticks or lipglasses though, to see whether there was a way to make it more wearable. :)

Anyway, here are the swatches~!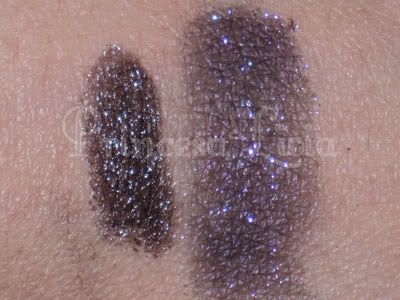 The first swatch photo is more crisp and you can see the bluish sparkles on the black shadow base.
The second swatch photo is more blurry but you can see the purple sheen and shimmers in this one.

Did you buy anything from this collection? ♥
If you haven't seen it yet, is there anything on your wish list from MAC Style Black?