Thanks to one of the lovely girls at the beauty forum Specktra.net, I was able to get my hands on some of the products from this collection. IT really is upsetting that some countries get the new MAC collections one month earlier than the UK, but its even worse when they don't release the collections to us at all.
THE ID, EGO & SUPEREGO
Livia's Id: "Its soo unfair!! I want my makeup!!"
Livia's Ego: "Well it IS JUST makeup for crying out loud... Livia, deal with it!"
Livia's Id: "but ohh the pretty colours~~~"
Livia's Ego: "Find a way then ;)"
Livia's Superego aka conscience: "Uh oh..."

So here's what I got from the MAC Cosmetics Trend F/W collection, along with my review and swatches. * F/W stands for Fall/Winter incase you wanted to know *
LIPSTICKS

MAC lipsticks in Our Pick and Hipster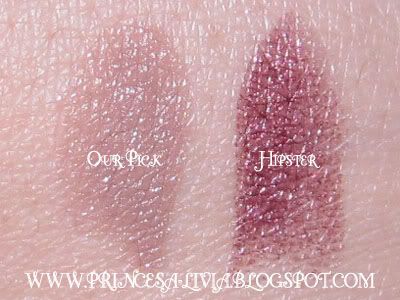 L to R: Our Pick, Hipster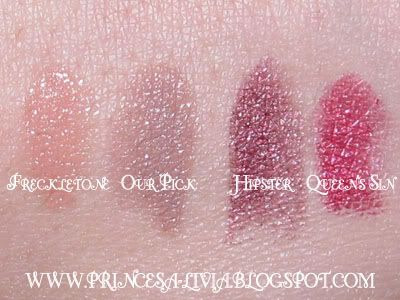 L to R: Freckletone, Our Pick, Hipster, Queen's Sin


Our Pick is a nude-taupe colour. It is quite opaque, satin finish.
Hipster is a dark berry with red frost. It will do well for the holiday season, as well as this season's vampy lip trend.

TONE: GREY EYESHADOW QUAD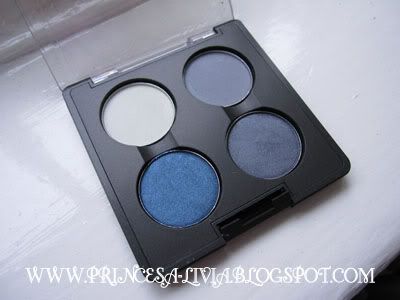 MAC eyeshadow quad in Tone: Grey



From L to R: A Warmer White (Satin), Tone: Grey (Satin), The Right Smoke (Frost), Waft (Frost)

Compared to some of my eyeshadows...~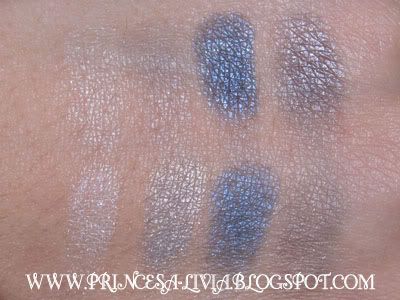 Top: Tone:Grey eyeshadow quad in the same order as above
Bottom: White Frost (Frost), Silverthorn (Veluxe Pearl), Blue Flame (Veluxe Pearl), Howzat (Satin)




Warmer White is a slightly off-white shade with a sheen but no shimmer, as you can see comparing it to the frosty White Frost.


Tone: Grey is a light bluish grey shade with no shimmer.


The Right Smoke is a frosty blue. Its shimmer is more pronounced than Blue Flame, and I think it is a bit brighter too.


Waft is a dark grey almost in the same shade as Howzat, but with grey/silver shimmers.



Did you purchase any items from this collection? ♥