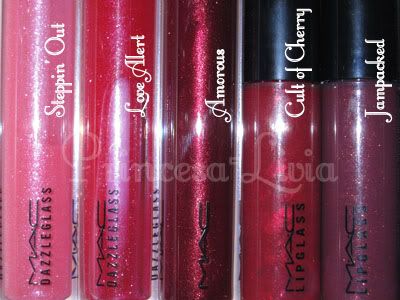 Amorous vs. other lipglosses
L to R: Steppin' Out, Love Alert, Amorous, Cult of Cherry, Jampacked

I also checked out the MAC Dazzlecremes collection yesterday along with the Style Black collection. The dazzlecremes are lipglosses with supposedly a combination of the creaminess and of the cremesheen glasses and the high sparkle of the dazzleglasses. I'm a big fan of the dazzleglasses coz I like my sparkles, but not so of the cremesheens because the ones that were released ago were too.. sheer for my taste. Out of all the dazzlecreme shades, I chose Amorous, which is a dark brownish red that is full of shimmers. This colour is so vampy, perfect for this season and the upcoming holidays too!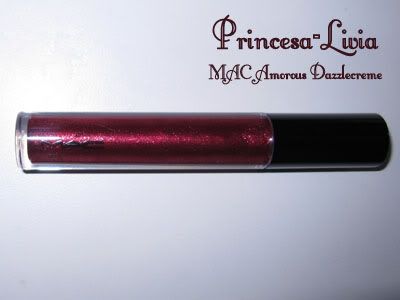 As you can see it really is a dark burgundy colour. Very pretty ♥

From the others, I also liked Soft Dazzle, which is a fab one to wear everyday. Its a peachy pink colour with gold sparkles.

Here are great swatches courtesy of Karla from
Karlasugar.blogspot.com
.


Have you purchased anything from the MAC Dazzlecremes collection? ♥