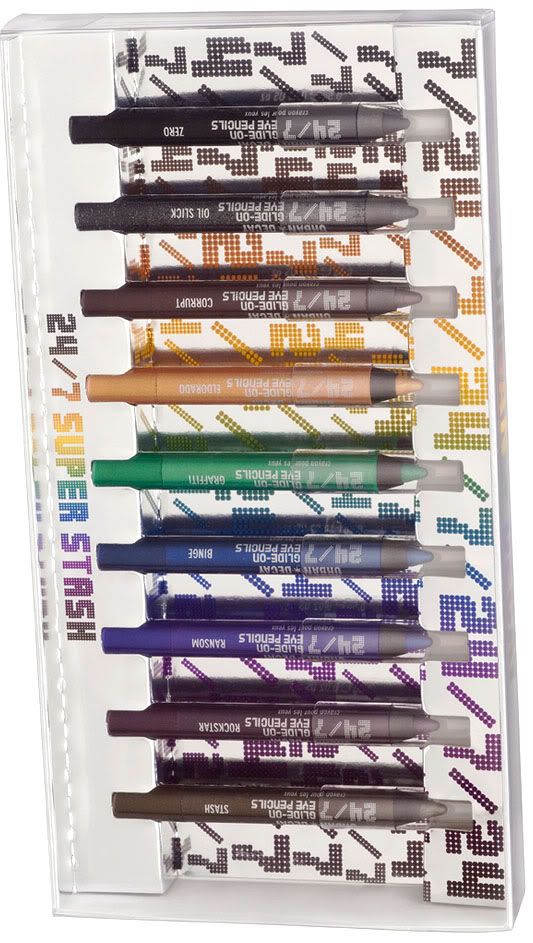 OMG I am really looking forward to this eyeliner pencil set! Urban Decay's 24/7 Liners are the best eyeliners I have tried. They are super smooth as they 'glide on' - awesome for your eyelids and waterline, have great colour pay-off, and they stay on really long on my eyelids too. I'm a big fan of these, and so I am really excited about this release!

This Urban Decay 24/7 Super Stash set comes in Urban Decay's Holiday Collection for 2009. Included in this set are the following 9 eyeliner shades, 4 of which are new, and 5 existing:
Zero (black)
Oil Slick (black with glitter) *NEW*
Corrupt (chocolate-brown with sparkle) *NEW*
Eldorado (golden) *NEW*
Graffiti (bright medium green w/silver sparkle)
Binge (navy) *NEW*
Ransom (bright iridescent purple)
Rockstar (darkest eggplant)
Stash (dark green/gold)
I am most excited about Oil Slick, Eldorado, Ransom and Rockstar. I really CAN'T wait!! ♥
Have you tried Urban Decay's 24/7 Liners?
How do YOU feel about them? ♥