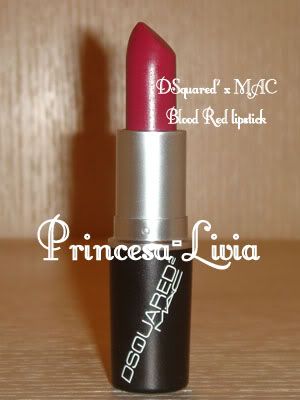 MAC Blood Red lipstick is one of the two lipsticks in the MAC x DSquared2 collection. Here are swatches for you guys of MAC's Blood Red lipstick comparing it to one of my much loved lipsticks, MAC Party Mate, and my newest true red MAC lipstick, Russian Red.
MAC Party Mate, Blood Red, Russian Red lipsticks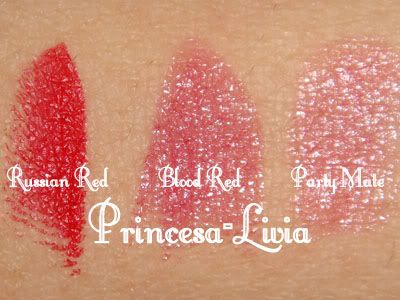 MAC Russian Red, Blood Red, Party Mate lipstick swatches
On the product photo (the first one), MAC Blood Red lipstick looks like a dark red-berry shade of lipstick. But don't be fooled by the product photo and its name! If you compare it to Russian Red in the swatch, it looks nothing much 'red' but more of a berry shade. It looks kinda like Party Mate lipstick but darker. Blood Red doesn't have much sparkles and it makes me think of MAC London Life lipstick *which I don't have* from the Euristocrats collection permanent in the UK but I'd think London Life could be a bit darker/more pigmented version.
Blood Red lipstick has the smooth lustre finish, which I love, for its moisturising properties and the way it glides on the lips. And its sheerness of a berry shade makes it really wearable.
To sum it up, I highly recommend this lipstick, its perfect compromise for girls who want dark berry vampy lipsticks for the fall but are afraid to go all out in dark bold matte colours! Applying it lightly on the lips could result in the oh so yummy 'just bitten lip' effect.
Well, I hope that helped you guys decide what to get from the DSquared2 Collection!! What do you think of this lipstick?
Yay or nay? ♥