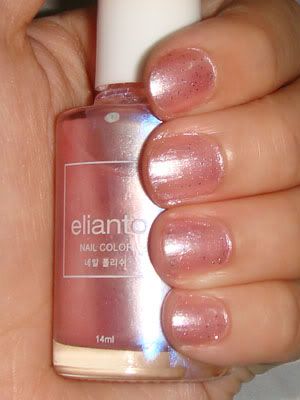 This is the nail polish I've been using lately; its
Elianto's Nude Purple Pearl
. I mentioned it in my previous post on the
products I've been using on August '09
.


Elianto's Nude Purple Pearl
nail polish is a very metallic, slightly mauve pinkish colour with very fine silver glitters. This reminds me of one of MAC's frost lipsticks from the Colour Craft collection last July, the name escapes me at the moment. Its a very wearable colour, not too bright and looks good with just about anything! Subtle and sophisticated.
Elianto is a
Korean
Malaysian cosmetics brand *thanks Blair!!*. I've seen Elianto products sold in Manila and Cebu, but not in my hometown Davao City, Philippines.

What is your favourite nail polish at the moment? ♥