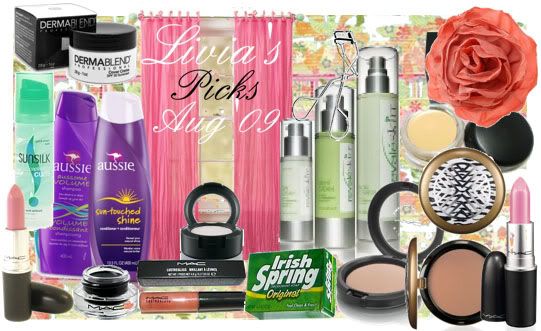 Hi guys! Its the last day of August. School's around the corner! (and I'm dreading the workload lol.) But anyway, I've seen this tag floating around the different blogs and decided to make a list of the stuff I've been using this August. Hope this list helps someone. Feel free to ask any questions!
Shampoo: Aussie Volumizing Shampoo

Conditioner: Aussie Sun-Shine Conditioner

Styling products: Sunsilk Captivating Curls Gel & Cream

Shower Gel: not a gel but I use Irish Cream soap

Body Moisturiser: none at the moment (weather too hot/humid)

Deodorant: none - I'm one of those lucky ones who don't smell

Fake Tan: none

Face Wash: Revale Facial Wash! - Going to blog about this soon :)

Cleanser: (isn't it the same as above?)

Exfoliator: none

Primer: none

Foundation Brush: I don't use foundation at the moment

Foundation: none

Concealer: a Dermablend concealer

Powder: MAC Mineralized Skinfinish Natural in Medium and Medium Dark
Bronzer: MAC Refined Golden
Highlighter: MAC Femme-Fi or White Frost eyeshadows :)
Eyeshadow Base: MAC Soft Ochre Paint pot
Eyeshadows: MAC Femme Fi, Smoke and Diamonds, Sunset B
Eyeliner: MAC Blacktrack fluidline
Curler: Shu Uemura and Fanny Serrano Lash Curlers (interchange them)
Mascara: the Balm's Two-Timer Mascara (love!)
Lipstick: MAC Bombshell and Plink! (trying to finish them off for B2Ms)
Lipgloss: MAC Pastel Emotion and Love Nectar
Nail Colour: Elianto Nude Purple Pearl Nail Colour
I tag these GORGEOUS ladies:
and ANYONE who wants to do this tag!
Simply copy the entire list, paste them on a 'new post', and replace my answers with yours.
Don't forget to link back to this post, or tell me in the comments, so I can see what you've written. I'm interested in what products you beauties are currently using. ♥