My body suffers from dry skin, whereas on my face I have combination skin: dry cheeks and an oilier T-zone (across the forehead and down the nose). I hate having dry skin: The way it feels - tight, the way it looks - white patches of flaky skin, the way it itches, and the way it makes my skin crack and bleed all by itself - especially in the winter. Dry skin also accelerates the aging process and encourages wrinkle formation. Horrible. Which is why Moisturising is a Must!
I love using
Olay
products for my face. I've just finished my 50g Olay Total Effects pump and I was looking for a replacement. I found this at the grocery, which came with the little pump free! I've wanted to get 2 moisturisers: 1 with SPF and 1 without (for nights out and pictures), and this deal was just what I needed. I haven't tried the Olay Total Effects in Gentle as my previous one was in Normal, so I'll try to review it once I've used it more.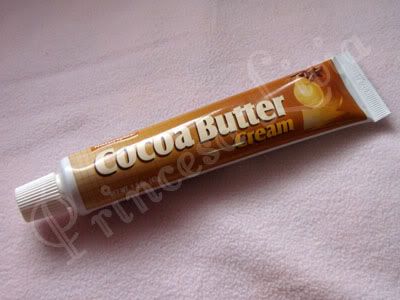 My mom gave me a tube of
Cocoa Butter cream
since she stocked up on it when she went to America! I've never tried this before, and I was pleasantly surprised. It smells really tasty - a lot like my Tutti Dolci body cream in Creme Brule, but I don't recommend eating it of course. It dries quite quickly and it leaves your skin so smooth and soft.
HOW I USE MY MOISTURISER
On body:
I apply body lotion after I've towel-dried myself from the shower. I find that the lotion is quickly absorbed into my skin during this time and effects last for most the day depending on your moisturiser.
On face:
I apply face moisturiser (Olay) at the end of my face cleansing routine which is twice a day. This takes three easy steps:
1) Wash face with gentle cleanser and pat dry with a soft face towel
2) Apply toner with a piece of cotton wool
3) Apply face moisturiser with clean fingers
Like with the body lotion, I find that the face cream is more easily absorbed on damp skin just after cleansing.
As Required:
In addition to these, I get random bouts of dryness, especially with my hands from washing them frequently. When this happens, I just apply moisturiser as needed.
Note: In the UK with the dry air and cold wind, I religiously stick to this routine, even in the summertime. However, in more humid environments such as here in the Philippines and I tend to use moisturisers less since my skin tends to break out with spots.
I hope this has helped some. Do you moisturise your skin regularly? What products do you use? ♥