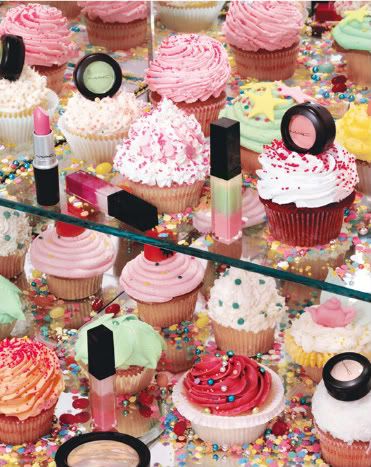 I went to check this collection out with my bf since he helps me pick out which ones are really worth getting, but overall, I thought the collection was just so so, although from the display the colours just looked so scrumptious! There weren't many items that I felt were must-haves. The
lipsticks
were pretty, the LE
eyeshadows
had a lack of colour pay-off (the perm ones in the collection were a lot better),
Mineralised Skin Finishes
didn't really have much colour to them - just for 'skin finishing' I guess. The tri colour
lip glosses
were sheer, and I don't wear
nail polishes
much (due to having to work in a hospital environment and examining patients) so I didn't check them out. My BF says I don't need
false lashes
so I didn't look at the lashes they had on display either. I think, like other bloggers, I thought the
shadesticks
were the ones that were the best in the collection. I bought my first one,
Red Velvet
, which would look great under the several pink/purple eyeshadows I have.
Read more for a more in-depth review :)
EYESHADOWS:
Sugarshot - Pale frosty beige (Lustre) (LE)
Dear Cupcake - Mid-tone pink coral with gold pearlized pigments (Satin) (LE)
Aquavert - Soft mint with white pearlized pigments (Veluxe Pearl) (LE) (Repromote from Lure)
Stars 'n' Rockets - Lavender with red/pink reflects (Veluxe Pearl) (Permanent)
Club - Muted reddish brown duo-chrome with green opalescent shimmer (Satin) (Permanent)



I thought overall that the perm eyeshadows (Stars n Rockets and Club) in this collection were better than the LE ones they have. I was really looking forward to Sugarshot and Dear Cupcake, but both of them lacked in colour pay-off. Seems like you had to build them quite a bit for them to show up :(. Sugarshot is a pretty glittery white shadow - really looked like sugar. I really wanted to get this but my conscience held me back - I could probably get another glittery white shadow that applied on better. Dear Cupcake - a nice satiny pink. But as I said, it lacked colour pay-off. I heard this was similar to Sushi Flower, but I didn't check that out to tell if that was true and if it had better pay-off. Aquavert is a light mint green shadow with amazing veluxe pearl texture that I thought would be good to get since the pay-off was good, but I remembered how I don't use my mint green Springtime Skipper much so I passed on this. I already have Stars n Rockets and its a beautiful colour, a pink-purple duochrome. This is a must have! Club is a greenish-brown duochrome that would be great for smokey eyes. BF didn't really like the colour though so I gave it a pass. Stars n Rockets and Club are in the permanent line so there's no rush to check these out. :)

SHADESTICKS:
Cakeshop - Frosted pewter
Lemon Chiffon - Frosted pale white gold
Butternutty - Frosted light neutral beige
Red Velvet - Frosted mid-tone pink
Penny - Light pinky copper

I was never interested in shadesticks since I thought paint pots were enough. I've read from others that apparently the formulation in the ones from Sugarsweet are much better and they glide on better than the old ones. I can testify that this is true. They glide on like butter :) My lids would be happy with these. I don't know if they're crease-resistant since I haven't played with them much. The colours are pretty much the same as on the colour description just above this paragraph - note that I've switched around the descriptions so they differ from the website since I think they've just mixed them up. I picked up Red Velvet, the pink one which would look so well under my pink or purple eyeshadows. :) Yum yum.

LIPSTICKS:
Sweet Thing - Mid-tone magenta with multi-dimensional pearl (Luste)
Bubbles - Sheer frosty white beige (Glaze)
Touch - Peachy cinnamon (Lustre)
Lollipop Loving - Mid-tone coral with subtle green with gold iridescence (Glaze)
Saint Germain - Pastel pink (Amplified Creme)



The lipsticks were pretty yummy, although I feel that I already have a few that were good dupes for these. Sweet Thing looked delish, looks like Fun n Sexy from the Fafi collection, but is a lustre so it glides on the lips better. Bubbles would make a good lip highlighter, but I felt that I didn't really need one of those. I already have Sunsonic from the Neo Sci Fi collection which is a golder frosty version, which I don't use much either. Touch is a brownish one from the permanent line. Lollipop Loving is a yummy repromote from the Heatherette collection. Must-have!! Saint Germain is another yummy one, its permanent in the UK, but reminds me of my Melrose Mood lipstick, also from the Heatherette collection. So yeah, I thought I had several that were dupes so I didn't buy any. :)

TRI-COLOUR LIPGLASS:
Tasty - Top: Sheer blue pink with reflects. Middle: Mid-tone blue pink with duo-chrome pearlized pigments. Bottom: Dark creamy red pink
Just Dessert - Top: Sheer yellow pink with reflects. Middle: Mid-tone yellow pink with duo-chrome pearlized pigments. Bottom: Mid-tone creamy yellow pink
Simply Delicious - Sheer peach with reflects. Middle: Pale coral with duo-chrome pearlized pigments. Bottom: Creamy mid-tone coral
Triple-Yum - Top: Sheer gold with gold reflects. True gold with duo-come pearlized pigments. Bottom: Mid-tone bronze
Consume Me - Top: Sheer white with reflects. Middle: Pale mint with duo-chrome pearlized pigments. Bottom: Creamy light peach with pearlized pigments

Just SHEER! And so not worth it. Unless if you're after the packaging, then that would be alright. :)

MINERALIZE SKINFINISHES:
Perfect Topping - Pink/Peach/Lavender melange
Refined - Tan/Peach/Coral melange



Both of these were pretty, and not as frosty as the Grand Duos. I would pick Perfect Topping if I was able to get one of the two.

So there you have it, my MAC Sugarsweet Collection review. Did you get anything? Which products were must-haves for you?

Promo pic from http://sher0xx.blogspot.com
Product Swatches are from karlasugar.blogspot.com