Finally, my exams are finished! That's second year of medical school done for me (well hopefully I don't have to do any retakes :s) and 4 more years to go!
I've been longing to see the new MAC collection that was released here in London last week, and now that I'm free, thats the first thing I did!
So here are swatches of lipsticks from MAC Neo Sci-fi & MAC Dazzleglasses.
MAC Neo Sci-Fi
To be honest though, I was quite disappointed with the collection. It wasn't as good as I thought it would be. The eyeshadows were smooth to apply and their colours were quite pretty (especially Expensive Pink), but I'm more of a lipstick-person so those were the only ones I really looked at.
Sci-fidelity
is a pretty colour but I found that it was very similar to other lipsticks already in the permanent line such as
New York Apple
, and a lot like
Fresh Moroccan
(though this picture doesn't really show it, it really is very similar - even more than with NYA). I didn't find it to be that special.
Sunsonic
is the lipstick I've been looking forward to see because the face chart for that lipstick really appealed to me (see below). It was very pretty swatched, but once I tried it on my lips, it just looked like a messy load of glitter. Maybe it would look better with my lips lined and layered with a gloss. But with it's relatively rough texture and needing these other things to make it work, I wasn't too happy. I decided to pass on this one :(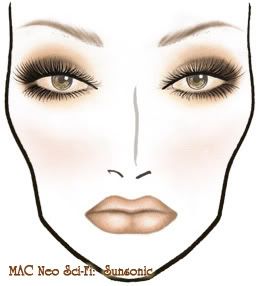 Astral
is a very pretty brown lipstick. It's a lustre and looks really elegant on, but it is quite similar to
Viva Glam VI
that I already have.
Electro
is a bright orange lipstick, but not as neon orange as I expected (which is a good thing :D). It was smooth and creamy applied, and looked quite decent on me when I put it on. However I don't think I'll have much use for it as it is not really an everyday-type of colour. It is swatched next to
Meltdown
which I've been thinking about getting recently, and I think I still prefer
Meltdown
to
Electro
.
Pink Grapefruit
is quite a pretty lipgloss. It's more orange-y than pink - but for that orange-y-ness I didn't really feel like I needed it (or more like 'wanted' it lol).
MAC Dazzleglass
I just chose a few Dazzleglasses to swatch based on how interesting I thought they looked on the tube.
Funtabulous
is a gloss that had a bright purplish colour with purple reflects. I thought this was quite pretty.
Ms. Fizz
is another pretty one that looks like Funtabulous, but slightly pinker with bluish reflects instead of purple.
Love Alert
is a gorgeous raspberry-coloured gloss with red reflects. Seems it would go well layered over red lipsticks, or maybe even alone.
Bare Necessity
is a white-neutral gloss that has red reflects (though they can't be seen in the photo- sorry!). It's a gloss that seems like it would go with a nude lip. :)
~ So that's the end of my mini-review, I walked out of the store without buying anything, disappointed - but however, thinking about the Dazzleglasses instead of the Neo Sci Fi collection. Wonder which item I should get... if I do get any?
Love it or Leave It? Leave a comment below!

Livia | The Skin and Beauty Blog